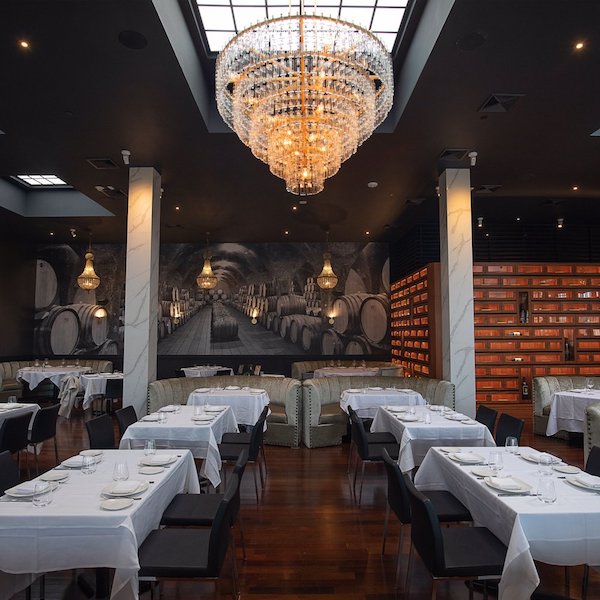 REVIEW: Prime 1024
January 8, 2019 | Daily Bite
The new Prime 1024 brings together what are arguably Long Islanders two favorite eat-out options: Italian and steak houses.
The luxurious Roslyn spot where Barto had been is a place of golden chandeliers, a massive lighted cubicle wall of wine, shelves of wines and liquors, candles, high ceilings and a huge glass front.
Its chef is Erminio Cante from Puglia, Italy, who has bounced around New York City restaurants for the last two decades. He, along with owner Chrstos Spyropoulos, sees his mission as bringing the new Manhattan flavor to Long Island. That theme was also emphasized in an interview with Mr. Conte, who described Prime 1024 with an upscale look one might find on Park or Lexington Avenue.
Unmentioned are the transfer of Manhattan prices as well. A steak dinner can cost as much as $110 and no less than $41. Pastas and risottos top out at $38 and start at $24. No doubt many upscale diners will feel the freshly made pastas and prime meats justify these tabs.
The only starter recently sampled was a husky, meaty slab of Atwood bacon followed by a petite filet mignon. But the lobster ravioli was stuffed with a could-be-anything filling without a hint of lobster flavor which is the case at almost every Long Island restaurant. Considerably better were two exemplary house made pastas: one featuring tender octopus, the other baby back ribs.
Both the food and décor are a few steps ahead of the service at Prime 1024. Although there were no major gaffs, there were many minor ones that simply should not occur at a luxurious, pricy spot. The diner who ordered the filet mignon was served a sirloin instead (it had to be replaced), the other three diners all were served dishes that were ordered by other people at the table and busboys cleared the table while some were still eating.
The super chocolate lava cake with warm molten chocolate was a unanimous choice over the strange cake-like tiramisu.
Review by Richard Scholem.
Photo Credit: Yelp.
Richard Jay Scholem practically invented the Long Island restaurant culture through 800+ reviews of the region's eateries both on radio and in print over the last 30 years. He is a former New York Times Long Island Section restaurant reviewer, has contributed to the Great Restaurants of...magazines and Bon Vivant, authored a book, aired reviews on WGSM and WCTO radio stations, served on the board of countless community and food and beverage organizations, and received many accolades for his journalism in both print and broadcast media. He is currently available for restaurant consultation. Reach him at (631) 271-3227.