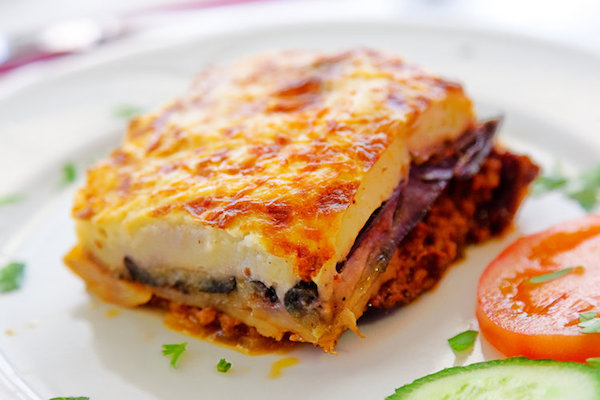 REVIEW: Parea
November 13, 2018 | Daily Bite
How does the new Parea stand up to the recently closed Med Two? Read now to find out now!
Review by Richard Scholem.
Photo Credit: Parea
There's good news for those who miss and mourn the late, lamented Mediterranean Snack Bar. The new Parea, where the Meds had been, is much like Med Two. The name and owner have changed but the menu, prices, wait staff and most importantly, the chef remain the same.
The Med in the middle of Huntington Village was a social center as much as a restaurant. It had been there forever when it unexpectedly shut its doors not that long ago. With that closing went memories of fresh fish caught by Steve, its owner, and complimentary wine served to people on line waiting to get in. When the news spread, regulars flocked to this Greek-American spot for a last meal or two and maybe a picture as well.
Now they can relax. Indeed, those regulars are cautiously trickling back in to Parea (it means a group of people who derive great pleasure by simply being together). Aside from a new coat of paint and perhaps a minor change in wall decorations the double store front Parea looks exactly like the Med. What's more, credit cards that were accepted only in more recent times at the Med are good to go and tips which had to be paid in cash at the Med can be put on the card.
And what about the food, you ask? It tastes pretty much as it always has. The Avgolemeno traditional Greek soup is as rich and authentic as ever and thick with chicken, rice and vegetables. A filling cup of it goes for a modest $3.50. The small Greek salad still isn't small but a generous medium sized amalgam and the $9 Greek sausage is still a stomach filling meal in itself. It's wrapped in a pita with salad and served with separate dishes of onion sauce and yogurt.
Generous too was the six king-sized, fried oyster appetizer, though it was a tad over breaded. The special kebab, a combination of tasty ground lamb and beef on a bed of salad looks much like the world's biggest hot dog, yet with a substantial skin.
Had I any room left for dessert (which I didn't), the rarely encountered galaktobouriko would have been my choice. Rice pudding and the predictable Baklava are also available.
Richard Jay Scholem practically invented the Long Island restaurant culture through 800+ reviews of the region's eateries both on radio and in print over the last 30 years. He is a former New York Times Long Island Section restaurant reviewer, has contributed to the Great Restaurants of...magazines and Bon Vivant, authored a book, aired reviews on WGSM and WCTO radio stations, served on the board of countless community and food and beverage organizations, and received many accolades for his journalism in both print and broadcast media. He is currently available for restaurant consultation. Reach him at (631) 271-3227.