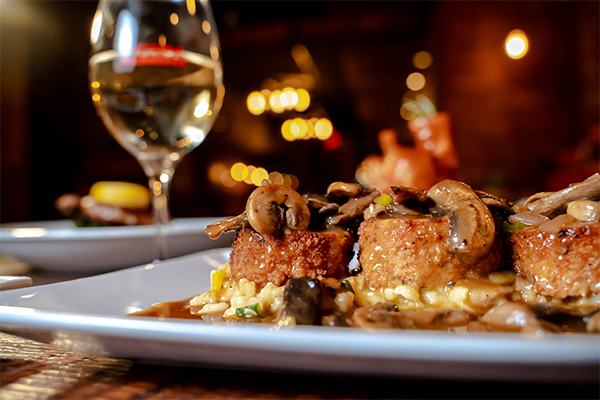 REVIEW: Vespa Italian Chophouse
March 10, 2020 | Daily Bite
Review by Richard Scholem
Photo Credit: Vespa Italian Chophouse
Many restaurants claim to be warm, welcoming places. Few succeed. The new Vespa Italian Chophouse, a big-deal Italian restaurant on a prominent corner of Fort Salonga Road (25 A) in Northport, achieves it. Even before we entered, I had a positive opinion of Vespa. When the parking attendants saw our Handicapped indication and a walker in the back seat, they told us to stay in the car and follow them to the convenient main entrance and that they would then park the car in the lot. One even gave us a suggestion to check out an eggplant dish.
That same sincere concern continued inside the restaurant with an agreeable, affable waiter who simply couldn't do enough for us. All this kindness no doubt flows from the family who owns Vespa, Ben and Cynthia Lo Manto and their eldest son Michael. This is their third restaurant. Not too long ago they opened both Vespa Italian Kitchen and Harley's American Grille in Farmingdale. The menu at the original Vespa says "Buon Appetito, your Host and Friend Benedetto Lo Manto." The motto at all three locations, "My home is your home," is far from an empty assertion. The new Vespa Italian Chop House is a combination of the two Farmingdale spots with a heavy emphasis of the Italian side (there are only three steak dishes and one of those a non-Italian possibility.
There are reminders of the Lo Manto family Italian roots everywhere. We dined under a picture of Castellammare Del Golfo, Sicily, Ben's birthplace. Many of his mother's recipes are on the sprawling menu, including her meatballs, braised octopus and pasta con le sarde. At the huge marble-topped bar, the vodka is BIVI from Sicily and the wine list is replete with Italian choices.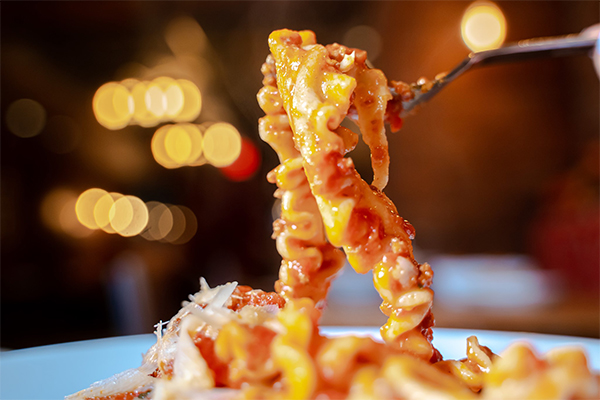 That huge menu offers no less than 18 appetizers, 6 pizzas, 9 soups and salads. 6 sandwiches, 12 brunches, 9 pastas, 7 seafoods and 12 land-based entrees in addition to the steaks and kids' menu. While it is possible to order a modestly priced meal Vespa is not a particularly inexpensive restaurant. Those entrees go for $24 to $35, no glass of wine costs less than $12 and the seafood selections are priced from $29 to $32.
Economizing or not, an excellent first choice is the extraordinary Past E Fagioli bean soup for a modest $7. Another noteworthy opener is the tiny, tender baked clams. The Harley bacon slabs, two thick cast iron, fatty, smoky pieces are worth a pick as well. Among the main events are Osso Bucco, a gigantic pork shank atop vegetable risotto and filet of sole with potatoes, spinach and scallions.
Two desserts, one heavy, one light, are recommended. The tartuffo with ice cream, raspberry filling, chocolate shell and whipped cream was enough for two while the casatelle Siciliano, two ricotta and chocolate filled turnovers, was a perfect individual sweet. Pay Vespa Italian Chophouse a visit at 843 Fort Salonga Road, Northport.
Richard Jay Scholem practically invented the Long Island restaurant culture through 800+ reviews of the region's eateries both on radio and in print over the last 30 years. He is a former New York Times Long Island Section restaurant reviewer, has contributed to the Great Restaurants of...magazines and Bon Vivant, authored a book, aired reviews on WGSM and WCTO radio stations, served on the board of countless community and food and beverage organizations, and received many accolades for his journalism in both print and broadcast media. He is currently available for restaurant consultation. Reach him at (631) 271-3227.