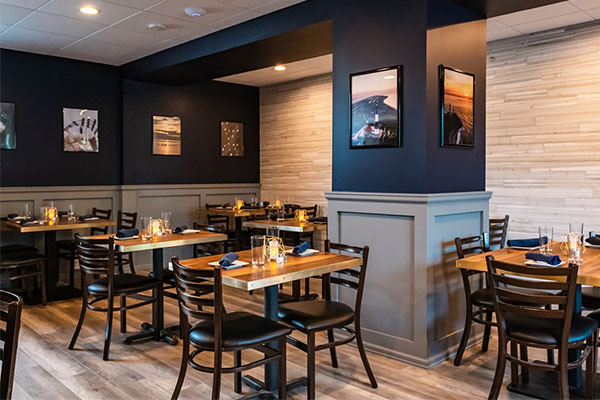 REVIEW: Leilu Huntington
September 13, 2019 | Daily Bite
Leilu at 10 New Street in Huntington Village is the ultimate hometown restaurant.
Review by Richard Scholem.
Photo Credit: Leilu Facebook
Owners James and Meghan La Courte are native born and raised Huntingtonians who went to elementary, middle school, and high school in town. After working for others in the restaurant business for about thirty years they returned to Huntington and opened the two story Leilu on July 2nd in the center of the village. That vaguely Hawaiian sounding name is a combination of their two daughters' names, Leila and Lucie.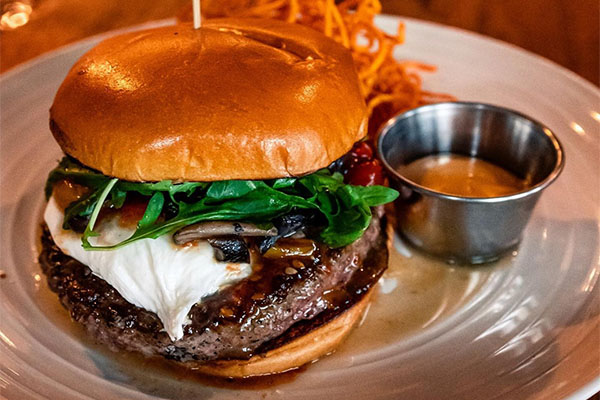 Photo Credit: Leilu Facebook
The La Courtes have constructed an extensive American menu, are sourcing ingredients locally whenever possible and offer a few vegetarian and vegan dishes. They hired Shane Blair, who previously worked at Block Island eating places like Hotel Manisses and Narragansett Inn, as their executive chef.
On a busy Saturday night in August, service was sweet but slow. We waited a while for our entrees. Among the modernized, familiar dishes sampled were the Leilu burger, a husky, medium rare patty, powered by an appealing blend of arugula, burrata, tomato preserve, mushroom duxelles and a tasty sauce, a respectably tasting crispy chicken, three average-sized cast iron scallops and a super spicy ravioli Amatriciana covered with slices of chorizo.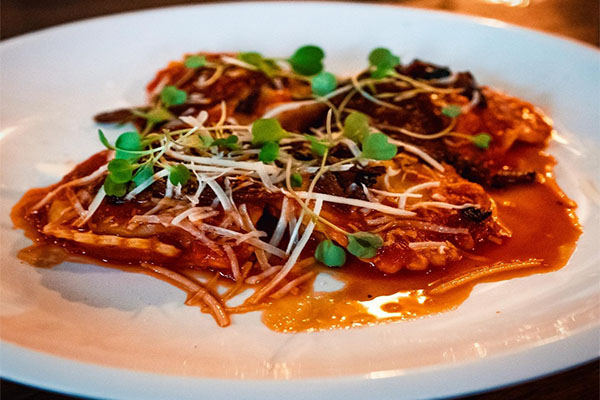 Photo Credit: Leilu Facebook
A Burrata Caprese was dominated by a scrumptious peach confiture. A strange sounding watermelon Gazpacho was a pleasant surprise with its summery amalgam of melon, strawberry, honey, baby bell and yuzu. Additionally, a sweet beet salad alive with apples, cheese and almonds was another creation especially appropriate for the season. There were only two dessert possibilities. A feathery, light Pana Cotta and a cinnamon rum bread pudding. Go.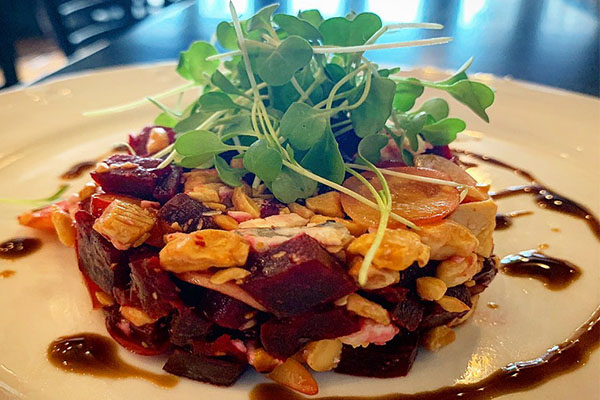 Photo Credit: Leilu Facebook
Richard Jay Scholem practically invented the Long Island restaurant culture through 800+ reviews of the region's eateries both on radio and in print over the last 30 years. He is a former New York Times Long Island Section restaurant reviewer, has contributed to the Great Restaurants of...magazines and Bon Vivant, authored a book, aired reviews on WGSM and WCTO radio stations, served on the board of countless community and food and beverage organizations, and received many accolades for his journalism in both print and broadcast media. He is currently available for restaurant consultation. Reach him at (631) 271-3227.