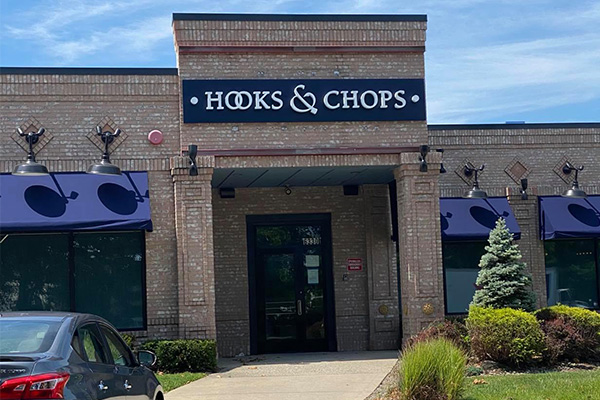 REVIEW: Hooks and Chops
December 18, 2020 | Daily Bite
Review of Commack eatery Hooks and Chops, by Su-Jit Lin.
Rating: 4/4 Plates
Surf and turf has a new name and attitude in this recently opened establishment whose workaday Pep Boys-adjacent location belies its elegance. Its tasteful, detail-oriented appearance - from the wooden facade to the deep blue and white coastal color scheme and generously spaced out (even for COVID times) tables - is your first sign that Executive Chef/Operator Steven Del Lima means serious business at his first self-helmed operation. That is, unless you took a peek at his ambitious menu before arriving.
A well-curated selection of food and beverage items didn't make decision-making any easier; the offerings are such that each line reads more tantalizing than the next. We settled on the Torched "Bloody" Orange Old Fashioned, featuring a smoky feel that opens up to a citrusy blood orange juice finish, and the refreshing Cranberry-Mint Moscow Mule, featuring real spiced cranberry puree that hit just the right note of sweetness.
The bread provided a good assortment of standards served with herb compote butter—which would later make a reappearance as the fat the tomahawk ribeye steak is cooked in. Ever a sucker for a good oyster, the special appetizer starring cornmeal-dusted fried ones on slices of pork belly served with smoked tomato remoulade was a must, despite my fear of falling in love with a weekly rotated dish that I might never chance on again. The signature blue crab beignets, drizzled with a coffee-tinged barbecue glaze, however, were a non-negotiable. Served with a lightly dressed cabbage slaw and topped with pea shoots, they were light, fluffy, and stuffed generously with crab. Neither appetizer had a trace of oil and brought me right back to New Orleans, where frying seafood is an art. Shocking, then, that Chef Del Lima had never practiced Southern cooking in great depth, as the respect and mastery of its techniques is evident in these two dishes, so often made poorly and blasphemously outside of the region.
Next was the "steakhouse wedge," we call in quotes, a very sweetly dressed half a head of Romaine topped with a generous portion of an ingredient combination that was far closer to a caprese/bruschetta hybrid.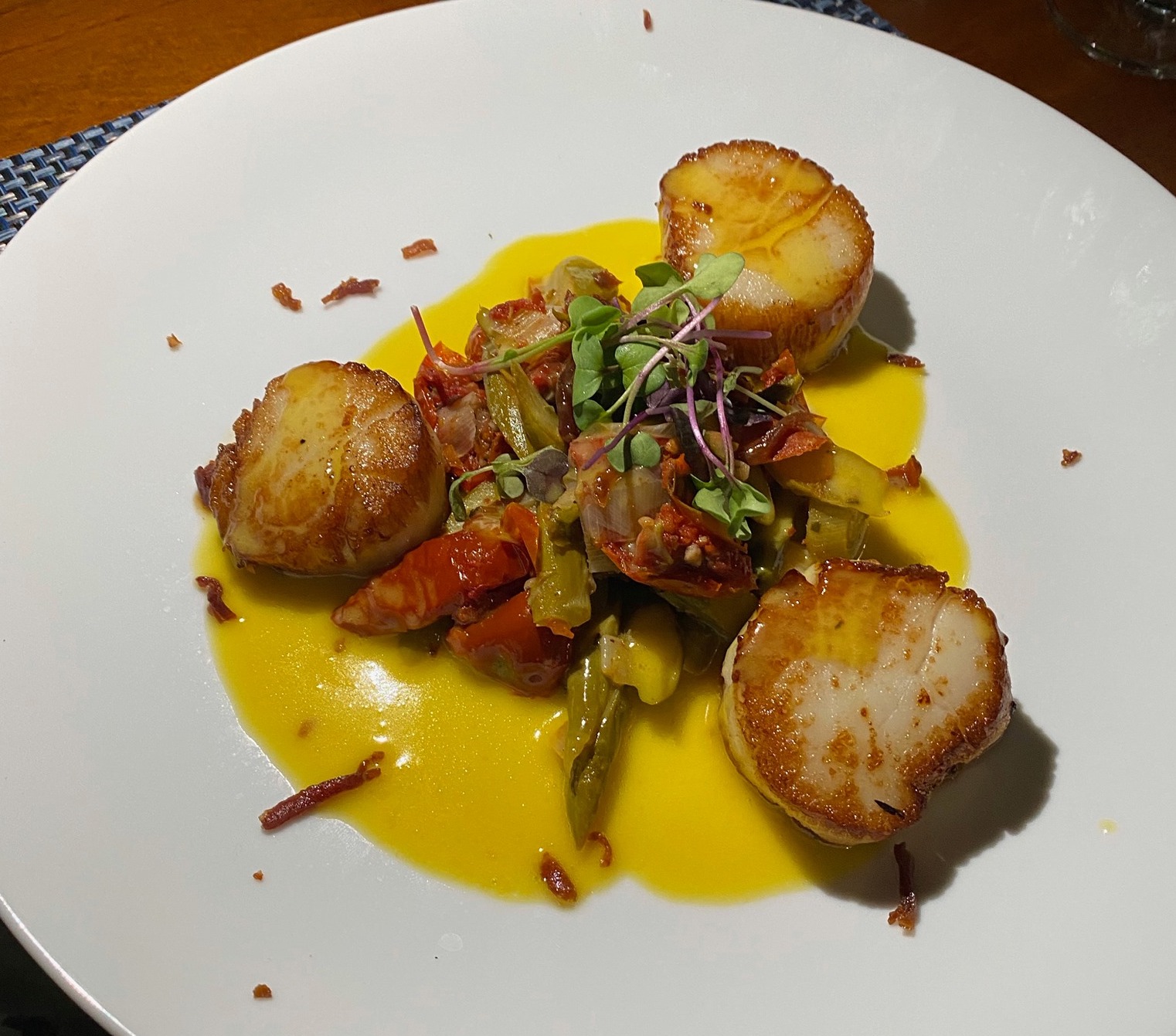 Photo Credit: WordHampton Public Relations
Met with great excitement were the seafood entrees, of which we'd chosen the Diver Sea Scallops and the Wild Alaskan Halibut. The scallops were purported to be served on "open-faced ravioli," which was essentially a bed of flat, fresh pasta squares. The crispy prosciutto was salty, texturally pleasant accent to the herbaceous scallops—portioned by weight and not quantity—with saffron-citrus burro fuso.
The halibut, like every "hook" item on the menu, was seven meaty ounces, and presented with authority on a butcher block-thick cedar plank. To one side were lobster home fries, zealously chunked with meat but less enthusiastically salted; to the other, a generous portion of sauteed garlic spinach. The mild preparation of the fish is designed to encourage the use of the unique and delicious cabernet butter served on the side; there was no faulting the quality of the ingredients and the immense value of this enormous portion.
For the land portion of the meal, we were sorely tempted by the maple-brined Tomahawk Duroc Pork Chop with sweet potato pearl couscous, charred broccolini, and Georgia peach chutney; sourdough pretzel-crusted Murray's French chicken breast with arugula, fennel, mandarin orange and a tomato mustard risotto cake; and duck breast with fava bean puree, Thai chili glaze, and mango-black cherry mostarda. Also appealing was the ricotta cavatelli, made fresh and locally like their other pastas.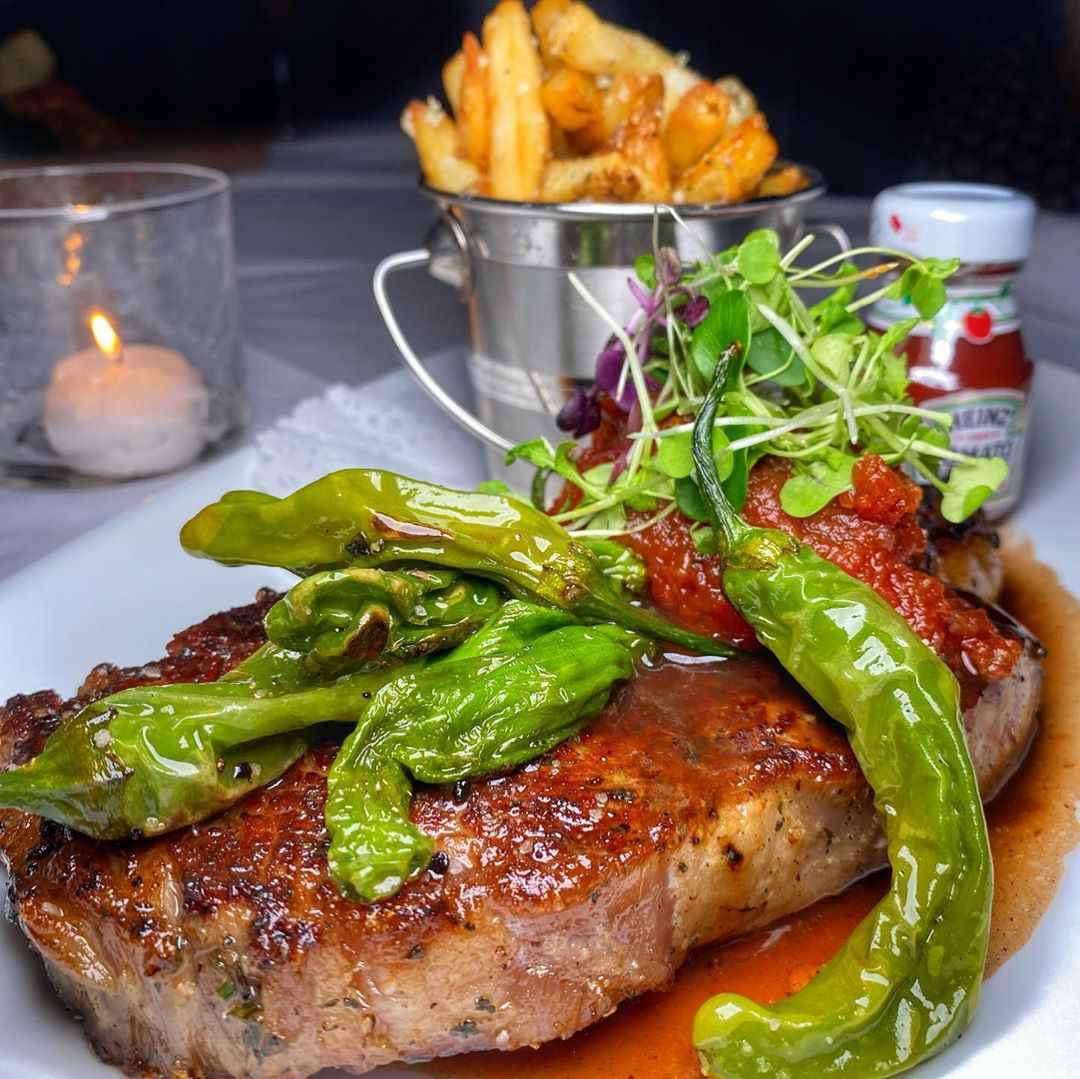 Photo Credit: NY Hidden Gems
But of course, we couldn't leave a steakhouse without ordering a plate of red meat. Wet- and dry-aged beef are both available, both undergoing 28 days of treatment. The wet-aged versions are plated specialties such as the 14-ounce strip with duck fat parmesan-parsley fries, shishito peppers, smoked tomato chutney, and Bordelaise. Also popular is the 22-ounce ribeye seasoned with Moroccan sea salt and topped with arugula, tomato, Vidalia onion rings, and roasted garlic aioli. On the other hand, the semi-à la carte "Specialty Chops are dry-aged with cedar and black lava salt and presented simply with a basic but large potato croquette and their homemade steak sauce, whose horseradish kick comes in slow motion.
These selections are all bone-in and come in 18 ounces for the Kansas City strip, 22 ounces for the Porterhouse, and 24 for the Tomahawk Ribeye, which was our selection. Well-marbled, expertly cooked to the requested temperature, tender and grassy (not just from the very light brushing of herb butter), it was an excellent illustration of a quality cut. Typically, steak sauce should be eschewed, but it was surprisingly not unwelcome here due to the lighter hand used with its seasonings. That was fine, though, as it allowed the flavor explosion of the honey, soy, and tamarind-glazed charred Brussels sprouts to stand out even more.
Lastly, a dessert menu priced and portioned for sharing, if you can make the room. The unique coffee twist on a Baked Alaska proved to be irresistible, its torched, slightly burnt meringue topping like earth and cloud combined over grounding black coffee buttermilk cake with cappuccino hazelnut gelato. The Anglaise is espresso-laced, too, but you need not even like coffee to enjoy this dish; its complexity is harmonious, and the coffee feels more like a baseline than a guitar solo.
The final takeaway? The hook of this new restaurant is that it's got some real chops. Get there, and do it soon, to sink your teeth into them before getting a table gets tough.
Food is in Su-Jit Lin's blood. Raised in a commercial kitchen by two generations of chefs, she's since moved to the other side of the line. Today, she tells the stories of the folks who remain behind them and the meaning of the meals they make. You can find these stories in HuffPost, Thrillist, AllRecipes, Longreads, The Kitchn, Yummly, The Spruce Eats, Edible Long Island and East End, Long Island Pulse, Patchogue Lifestyle, and others, as well as on The Lounge Channel, where she hosts the Booze and Bites web series. Her person, however, can be found traveling or searching for food, making food, trying to burn off said food, or documenting the quest.