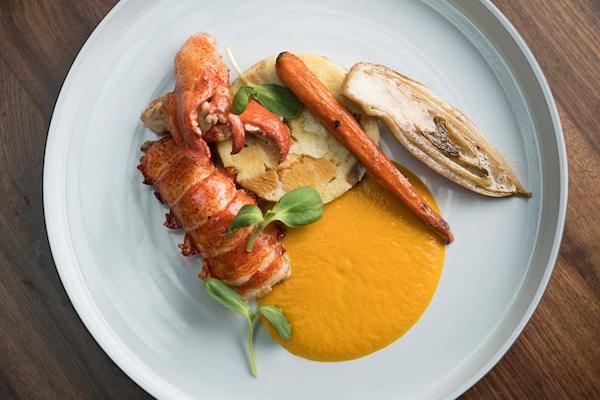 REVIEW: 2 Spring
August 15, 2018 | Daily Bite
2 Spring is the hottest restaurant on Long Island. How hot, you ask?
Review by Richard Scholem.
Originally published in Long Island Pulse on May 23, 2018
Photo Credit: 2 Spring Facebook
Nearly a month after its long delayed opening, we called for a week night reservation and were told only the 5 pm and 9 pm slots were available. A few weeks later, we scored a 6 PM week night reservation and were part of a full house, every-seat-taken scene. There are multiple reasons for this popularity. Jesse Schenker, the Executive Chef, made a name for himself in Manhattan with two deservedly praised restaurants: The Gander and Recette and won plaudits in Iron Chef, Forbes and Details Magazines. Locals also had an almost two year opportunity to check it out during its laboriously slow construction.
2 Spring is a handsome, two story restaurant of modern clean lines, a high tin ceiling, glass enclosed stairs leading to an upstairs dining room, brick and wood walls, bare tables and flickering candles. It offers an interesting, concise menu of contemporary dishes, many with creative touches to familiar fare. (Listen to your waitresses' extensive description of dishes, the menu listings aren't always the whole story). A hearty fisherman's pot listed with a straight forward mix of clams. prawns, crème fraiche etc. doesn't mention its Asian spin but the waitress does and a dessert described as an apple tart is baked apple et al but not a tart.
First, two overview observations of 2 Spring. Both portions and prices are substantial and appetizers are more interesting and superior to main courses. Among the recommended starters are a fried cod fritter swimming in a rich lamb ragu, curry aioli amalgam, a beets and burrata, light, tasty alternative and crisp oysters enhanced by their spicy remoulade.
Two small plate alternatives sampled were pergola risotto, a multi-colored cous cous-like mix of duck confit, parsnip, Parmesan and lemon and three or four thin, tasty but chewy grilled short ribs. A slightly overcooked spicy lobster accompanied by almost raw vegetables was disappointing but some tender sea scallops with octopus, celery root and Port were everything they should be and more. A superior, decadent serving of s'mores was a fitting cap to a satisfying dining experience.
Richard Jay Scholem practically invented the Long Island restaurant culture through 800+ reviews of the region's eateries both on radio and in print over the last 30 years. He is a former New York Times Long Island Section restaurant reviewer, has contributed to the Great Restaurants of...magazines and Bon Vivant, authored a book, aired reviews on WGSM and WCTO radio stations, served on the board of countless community and food and beverage organizations, and received many accolades for his journalism in both print and broadcast media. He is currently available for restaurant consultation. Reach him at (631) 271-3227.