Join Our Mailinglist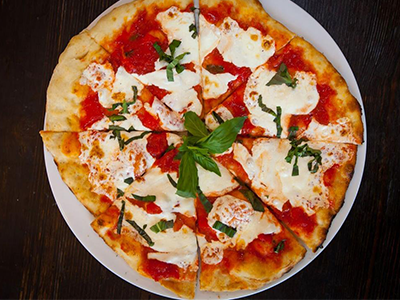 REVIEW: Matteo's Trattoria & Bar
August 31, 2018 | Daily Bite
Matteo's in Huntington Station has remained true to its traditional, rustic roots, even as it transformed itself from a casual, typical Italian-American spot into a sophisticated, stylish destination restaurant.
Review by Richard Scholem.
Originally published in Long Island Pulse on January 16, 2018
Photo Credit: Matteo's Facebook
Although the newly renovated and modernized Matteo's is now a sprawling place of cathedral ceilings, marble floors, white table clothes, candles and fireplaces its heart and soul remains true to classic dishes from the North and South of Italy (meatballs, baked clams Originate, pappardella Bolognese, eggplant Parmigiano, zucchini fritti and veal Milanese. Nearly every dish is available in individual and family size portions. Among the items on the new menu are wood fried pizzas including the Robiola offering Robiola cheese, Mozzarella, basil and truffle oil.
Add smooth, solicitous service to the mix and you have most of the ingredients for a satisfying evening. Oh, yes, portions are large (be prepared for take-home left over's).
The wide ranging menu here yields a variety of results, though there were no failures or triumphs. Meals begin with welcome, warm crusty bread and should be followed by the salumi board: a colossal centerpiece of prosciutto di Parma, sopressata, aged provolone, imported Robiola, Parmigiano, Shishito peppers, and an assortment of olives.
We followed it with a monster Asiago burger ordered medium rare that arrived medium. A moist, lovely recommended wood fired branzino, a respectable veal Marsala featuring thin, tasty pieces of veal and a disappointing Bucatini Amatriciana bogged down by too much pasta and too little rather standard sauce.
Most prices fall into a comfortable middle ground. That salumi board goes for $13 and $23, the burger is priced at $17.50, and the Amatriciana is listed at $16 and $26. The two house made desserts ($8.50) we sampled were a good mocha based cake and an even better rich, deeply flavored chocolate fudge cake.
Richard Jay Scholem practically invented the Long Island restaurant culture through 800+ reviews of the region's eateries both on radio and in print over the last 30 years. He is a former New York Times Long Island Section restaurant reviewer, has contributed to the Great Restaurants of...magazines and Bon Vivant, authored a book, aired reviews on WGSM and WCTO radio stations, served on the board of countless community and food and beverage organizations, and received many accolades for his journalism in both print and broadcast media. He is currently available for restaurant consultation. Reach him at (631) 271-3227.