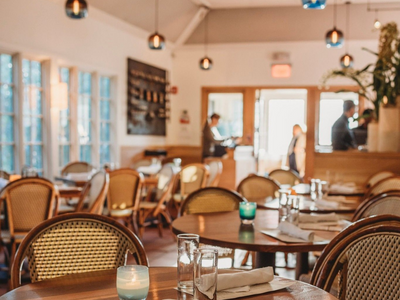 Restaurants That Will Win Your Heart Over On Valentine's Day
February 8, 2023 | What To Do
Shakespeare wrote "if music be the food of love, play on." Although we love music as much as the next person, we think food is the food of love quite frankly. Enjoy a romantic meal with your special someone at one of these five wonderful restaurants this Valentine's Day.
Calissa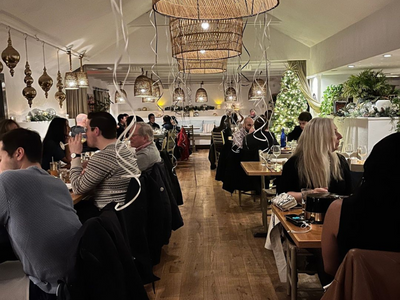 Credit: Calissa
Calissa calls itself "the Mykonos of the Hamptons." The menu focuses on seafood and Greek dishes such as salt baked fish, seafood pasta and Mediterranean fare. They will be serving a $75 prix fixe on Valentine's Day featuring fig salad with baby arugula, prosciutto, blue cheese and port wine reduction, Kolokythopita squash and feta pie, filet mignon with Greek style chimichurri, mashed potato and lemon Horta and for dessert (a necessity on V-Day), chocolate lava cake with Valrhona chocolate and fresh strawberries and red velvet cake topped with chocolate sauce.
Almond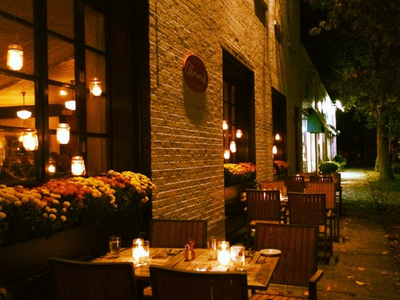 Credit: Almond
Forget Fifty Shades of Grey, Almond in Bridgehampton is offering a special "Shades of Red" menu for Valentine's. The $90 four-course prix fixe includes delicious items such as assorted up island duck charcuterie, aged Montauk tuna loin BLT sandwich, pork tortellini, Peconic Bay scallops, General Tso's fluke and a shawarma spiced rack of lambs. For dessert, beignets! Oh, and Almond is also bringing back their popular karaoke on Saturday nights.
Wild Honey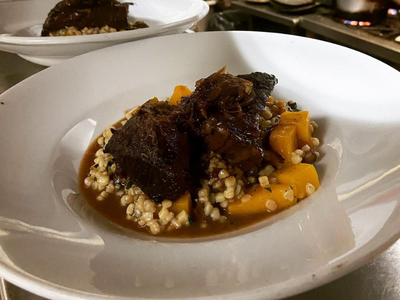 Credit:
Wild Honey brings creative American cuisine to Oyster Bay. The Valentine's Day menu is $65 per person and features truffle potato leek soup, Maine lobster ravioli, grilled kielbasa skewers, pistachio and panko crusted wild flounder, ocean "bouillabaisse" and raspberry passionfruit creme brulee. Don't limit your Wild Honey experience just to Cupid's Day; the restaurant is open for lunch Tuesday through Friday and for dinner every night.
Mosaic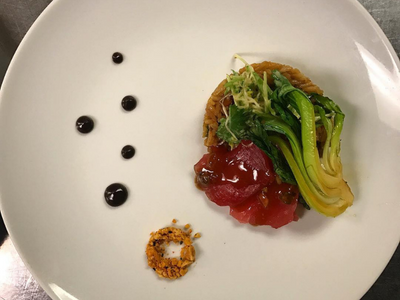 Credit: Mosaic
Mosaic lives up to its name, as it presents diners with a five-course tasting menu changing nightly. The ingredients are always of the freshest quality and utilizes local and seasonal sources. The Valentine's Day menu includes Manhattan clam chowder, lobster au poivre vert, trou normand, and aged triple creme cow's milk cheese. Mosaic also boasts one of the best wine menus around, and the creativity from the culinary team will truly wow you.
Nick & Toni's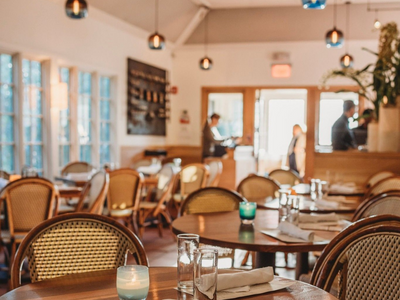 Credit: Nick & Toni's
Nick & Toni's defines elegance and dining at the iconic East Hampton restaurant and is always special. They will be offering a three-course prix fixe for $125 per person on Valentine's Day. Diners may enjoy the truffled burrata, whole roasted Black Sea bass, roasted free range chicken, New Zealand lamb chops, New York wagyu strip steak, chocolate truffle torte and appropriately, tartufo for two.