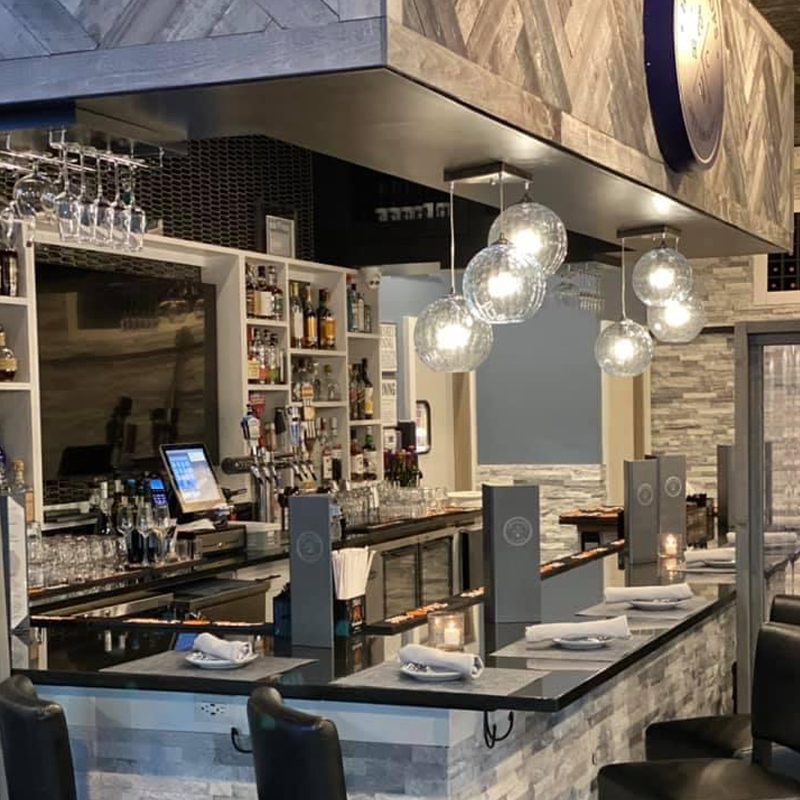 Top Places to Dine Out This Valentine's Day
February 8, 2021 | What To Do
Not sure where to take your special someone to dine this Valentine's Day? We've got you covered! Check out these options to dine out or enjoy a full cooked meal at home.
Hooks & Chops
Hooks & Chops will be honoring the day of love from Friday, February 12 through Sunday, February 14. Diners will enjoy a la cate specials available for dine in and takeout. The special menu will include Atlantic seafood & roasted corn chowder, grilled Blue Point oysters, heart shaped lobster ravioli, ultimate surf-and-turf for two and seared diver scallops. End your night on a sweet note with the chocolate sin for dessert. Those who celebrate at Hooks & Chops will receive a yummy homemade cocoa bombs and a 10% coupon to be used on their next visit. Reservations are recommended and can be made by calling the restaurant directly at 631-600-0521.
Ben's Kosher Deli
Ben's Kosher Deli will offer romantic specials for two in honor of Valentine's Day on both Saturday, February 13 and Sunday, February 14. Couples will have a choice between rib eye steak for two for $49.99 or grilled filet of salmon for two for $39.99 both served with sauteed mixed vegetables and your choice of mashed potatoes or freshly cut French fries. The specials will be available for dine in or takeout. Call in your order at 516-621-3340.
Coche Comedor
In the mood for some spice this V-Day? Coche Comedor is celebrating Valentine's Day by offering a three-course prix fixe menu on Friday, February 14. First course will include grilled local oysters with chorizo butter for $12. Wood rotisserie rack of lamb with golden beet and baby spinach salad and pipian rojo for $36 for the second course followed by carajillo chocolate pudding with sopapilla and fresh cream for $12. The specials will also be available a la carte. Coche Comedor is first come first serve seating so come on in!
Cupid's Pop Valentine's Day Pop-up
Couples seeking an extra special Valentine's Day celebration should check out Cupid's Valentine's Day Pop-up. Enjoy live music accompanied with charming cocktails such as the chocolate martini or the "love potion" (strawberry, vodka, raspberry liqueur, pomegranate juice and cranberry juice). Savory small bites such as lobster risotto balls, truffle gnocchi, filet mignon lobster surf and turf, and dinner plates will be available for ordering. Sweets lovers will drool over their delicious dessert choices of chocolate-covered cheesecake bites or red velvet and whipped cream whoopie pies. Reservations are encouraged as seating is limited. A $23 reservation fee will include a 90-minute seating, a glass of champagne and a single rose. Food and drinks are additional. The pop-up will be open through February 21. Book your reservation today at cupidspopup.com.
Mansion at Glen Cove
Mansion at Glen Cove will be offering an entire weekend of romantic activities for you and your loved one to enjoy. Start off your celebration with a wine tasting complete with food from 7-10 p.m. on February 12 for $125. A brunch prix fixe will be available for $55 from February 13-14 and a Valentine's Day dinner for $85 to top of your weekend of romance. Reservations are required and can be made by calling 516-751-5623.
Moonstone Modern Asian
Looking for a more ethnic dining experience? Look no further than Moonstone Modern Asian. The restaurant will be offering a Valentine's Day menu for $150 per couple. Start your night with a champagne cocktail and dim sum basket of shrimp and chicken or crabmeat dumplings. Hors' d'oeuvres of lobster salad with sweet potato tempura, miso glazed Chilean sea bass and charbroiled Angus beef short ribs will follow. A main course of Maine lobster with Shimeji mushroom and crispy egg noodles is also available. Still have room for more? Dessert options will include dark and white chocolate mousse cake with black cherry chocolate truffles. For more information call 515- 500-1111, moonstoneny.com.