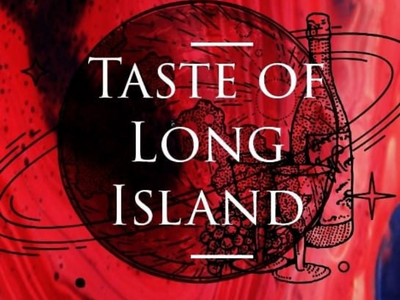 Interview with Marina Putova, Founder of Taste of Long Island
November 15, 2022 | What To Do
If you're looking for cool food content on Long Island restaurants, look no further. Marina Putova, who moved from Russia to New York four years ago, recently started her YouTube channel, Taste of Long Island. In the channel's premiere episode, she tours The American Hotel in Sag Harbor (where she also works). Taste of Long Island also created content for Fall Long Island Restaurant Week at Novita Wine Bar & Trattoria, Ruta Oaxaca Mexican Cuisine, Revel Restaurant and Manna at Lobster Inn. We had a chance to speak to Marina, read our conversation below!
Can you talk about your background? What was it like growing up in Russia and when did you move to New York?
MARINA: Since I was little, my parents were always taking me to travel. We lived in a small town called Blagoveshchensk in Russia, which is located next to the border with China. Literally on the other side of the river is China. I was always spoiled by great Chinese cuisine and dreamt of tasting more food from all over the world.
Four years ago, I moved to New York. I didn't speak any English back then, but I was lucky to get a job at The American Hotel in Sag Harbor. The restaurant became my home and its cuisine definitely spoiled me. Also, I was fortunate enough to build my first family, which is the people who work and regularly dine at American Hotel. We all take care of each other with a big smile on our faces. In Russia, I didn't feel the same energy.
Why did you want to start the Taste of Long Island YouTube channel?
MARINA: I have had so many meals in Asia and Europe since I was young. When I came to Long Island, I was shocked by the quality of the food here. There are so many inspired restaurant owners and amazing chefs from all over the world. Every restaurant has its own unique history and background, and I think everyone should know about it. Isn't it great to see the most popular dishes and the general aesthetic of local restaurants in a YouTube video? Chefs can also share their stories of how they created the menu. The owner will tell you what inspired them to open the place, or the bartender will share with you their best recipes for cocktails.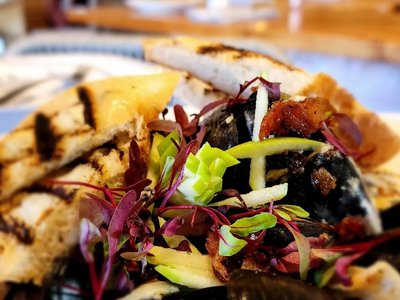 Credit: Flora, courtesy of Taste of Long Island
What is your job at The American Hotel? Has working at a restaurant helped you in your videos?
MARINA: I work as a server and bartender, and also have my WSET certification in wines. Thanks to my job, I was able to learn English faster as well as talk to many professionals in the hospitality business. My first video was about the 50th anniversary celebrations at The American Hotel. I was grateful to the owner, Ted Conklin, for building such a strong family-oriented place where everyone feels at home. He gave me permission to make the video and in five months, it happened.
Can you talk about your co-host in the videos, Joseph?
MARINA: I've known Joseph since I first moved here. He also works at The American Hotel. At the time I didn't have anything, only $500 in my pocket. He helped me and taught me English. We were always going out to have dinner and I thought he was very funny and special. I always thought that he'd be great on camera and that's why he's my co-host on the channel. It has a natural sense of humor.
How did you become involved with Long Island Restaurant Week?
MARINA: I first emailed Long Island Restaurant Week because I was always fascinated by the promotion. I was curious about its history, which restaurants participate and how the prix fixe menu worked.
What are you trying to accomplish with your videos?
MARINA: The idea is to help Long Islanders to discover local restaurants with their own eyes through the screen. Now you don't have to guess how the dish is prepared, you can actually see it for yourself and hear from the chefs. It also gives you a sense of the behind the scenes at the restaurants.
Another good thing about Taste of Long Island is that our videos are location-based on individual Long Island towns. Like on Instagram, you can choose which town you want to view and then see Reels and professional photos of a restaurant's offerings. The goal is to eventually become the go-to channel for Long Island restaurants. We can help people find the best promotions, game nights, prix fixe menus and more.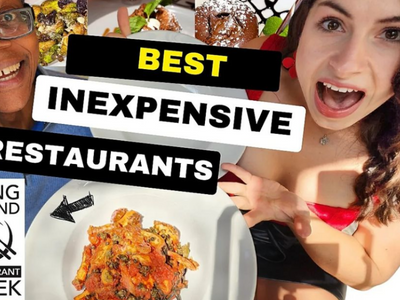 Credit: Taste of Long Island's Fall Long Island Restaurant Week video
What is your favorite part about making the videos?
MARINA: Probably watching the restaurant owners and workers talking about their work and how they try to make the dining experience special for patrons.
What do you have planned in the future for Taste of Long Island?
MARINA: The goal is to film at many restaurants and give the public a better idea of them. Many times we don't know where to go to eat, so hopefully my channel helps with that. Whatever you're looking for, whether it's the place for a date or a fun night out, we got you.
What are some of your favorite restaurants on Long Island?
MARINA: Stone Creek Inn in East Quogue, RUMBA in Hampton Bays and Tellers in Islip.