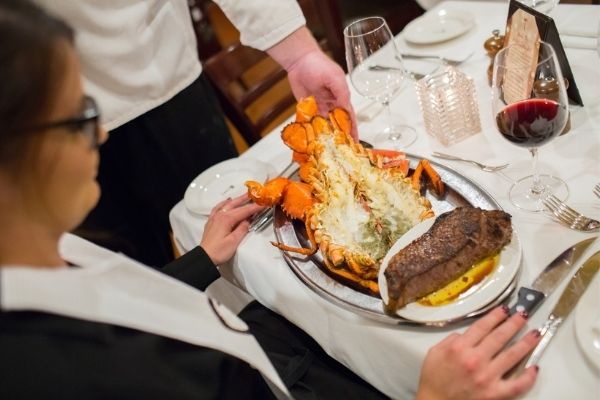 Best Long Island Steakhouses
January 24, 2022 | What To Do
For many foodies, nothing beats cutting into an expertly prepared steak, paired with creamed spinach and a glass of red wine. Whether the carnivore in you craves a porterhouse, sirloin, or rib-eye cut, these five Long Island steakhouses will leave you chewing in approval.
George Martin The Original


Credit: George Martin The Original
George Martin The Original in Rockville Centre has the ambiance of a traditional steakhouse, with wood accents and an elegant dining room. The wide variety of steaks, chops, seafood and fresh salads and pastas are all winners. Standouts include the gorgonzola crusted NY shell (served with Irish whiskey peppercorn sauce and choice of potato), apple cider glazed Berkshire pork chops and 12 oz. marinated skirt steak.
Bryant & Cooper


Credit: Bryant & Cooper
Bryant & Cooper in Roslyn has delicious seafood dishes on top of being a premiere steakhouse. The stone crab claws, shellfish cocktails, clams oreganata and linguine in white clam sauce are to die for. Bryant & Cooper is well-known for its porterhouse for two or three, but the sirloin, rib steak and filet mignon are great as well. Potatoes can be enjoyed mashed, baked, cottage-fried, or Lyonnaise-style with crispy onions. Seafood, steak and potato lovers will all be happy here.
The Palm at Huntington Inn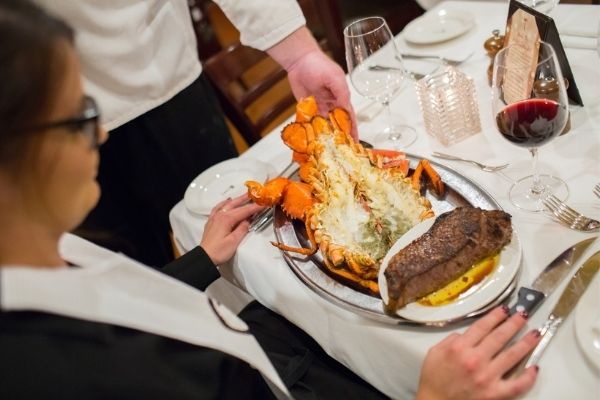 Credit: The Palm at Huntington Inn
The Palm is one of East Hampton's toughest reservations for a reason. The restaurant boasts delicious Italian and Italian-American specialties, including oysters oreganata, veal and chicken parmigiana and veal Marsala. The double-cut New York strip steak, tomahawk, and bone-in rib-eye are terrific steak option. Pictured above, the tick-cut nueske bacon is indescribably good.
Peter Luger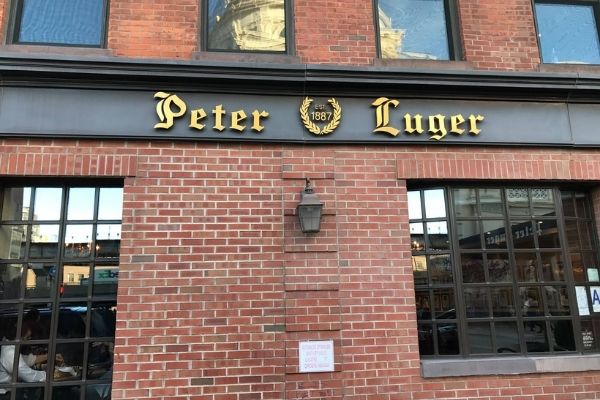 Credit: Peter Luger
Peter Luger in Williamsburg is the definitive fine dining experience for many Long Islanders. The Great Neck location is similar in many ways, with its white-coated servers pacing the castle-like building, oak panels and oil paintings adorning the walls. Stellar appetizers include the house bacon, shrimp cocktails and wedge salads. The porterhouse entree, a dry-aged chop, is crusty on the outside and expertly cooked. The sides, such as creamed spinach or blackened German potatoes, accentuate any meal.
Tellers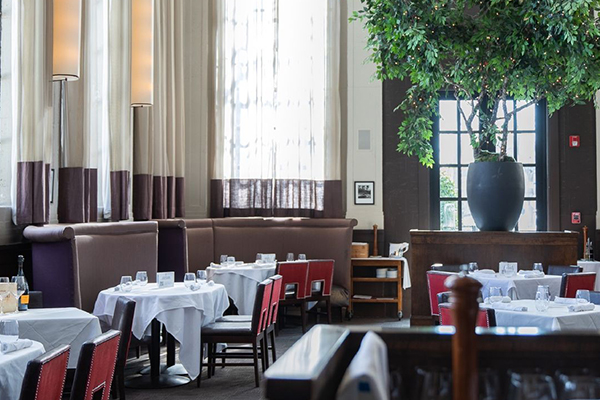 Credit: Tellers
Tellers does it big. This Islip staple is famous for its enormous serving sizes, which include the 20 oz. dry-aged, bourbon-flavored "celebration steak" and 4- oz. rib-eye with a foot of white bone sticking out. However, Tellers has a lot more to offer. The lobster roll and clams on the half-shell are superb, as well as the key lime pie with blueberry sauce and coconut sorbet.