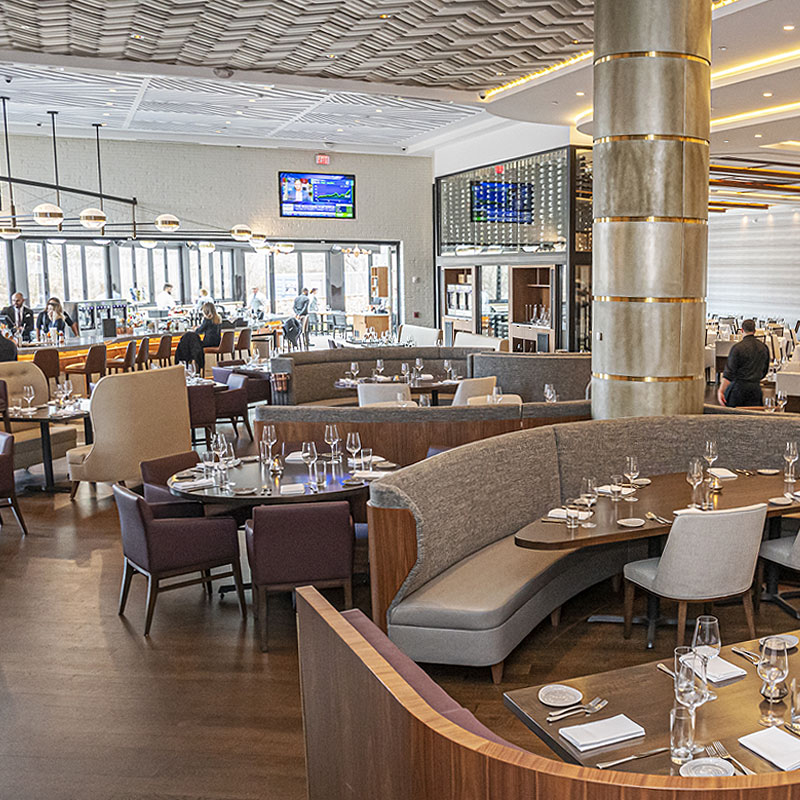 REVIEW: One10
February 19, 2021 | Daily Bite
Review of ONE10, by Richard Jay Scholem.
Rating: 2.5/4 Plates
ONE10, which opened recently in the Melville area of Huntington, is the biggest, flashiest restaurant to emerge in this restaurant-rich town. It is a typically lavish, almost over the top, Anthony Scotto production. ONE10 is a 14,000 square foot colossus with a soaring herringbone ceiling, a viewable open kitchen, huge walls of windows, modern round globe-shaped lights, walls and walls of wine and a bit fewer than 300 seats. This sprawling, palatial, high-rollers heaven also has fire power in the kitchen, with experienced, gifted, executive chef Ron Gelish at the helm. This smooth, sophisticated, sometimes overdone, Italian-American place offers a potpourri of successful dishes. The sum total of which falls just a smidgen below what the grandiose surroundings seem to promise. The lunch/dinner menu delivers superior versions of widely available preparations. An especially gifted treatment of all fish dishes that are grilled with olive oil, lemon and sea-salt is part of a mix with uninspiring offerings that don't justify their often-substantial prices (the perfectly prepared pan-seared Scottish salmon is especially recommended.) Yet prices are generally at a predictable and substantial level for a restaurant of this stripe. Fish ranges from $29 to $39 while meats go from $28 to $44 and pastas are in the $19 to $32 category.
A humongous, much better than usual chicken parmesan, alive with tomato and mozzarella on a helping of fettuccini is recommended. The fresh fettuccini in a rich truffle and porcini cheese sauce festooned with shaved black truffle, probably falls into the "ok, nothing special" bracket. The bar serves more casual, less expensive, light lunches, dinners or impromptu bites.
For the most part, well informed, well trained waiters and busboys provided excellent service. Water glasses were promptly refilled. Not only were coffee cups instantly replenished but a coffee press was left on the table so that diners could, if they desired, pour their own.
Restaurant lovers can avail themselves of a number of offerings from One10: there's a Far Niente wine dinner coming up on March 3rd at 6 pm; a 3-course $59 dollar prix fixe on Wednesday (steak and seafood), and Surf & Turf every Sunday (dinner for two for $59 pp). There's also a $119 prix fixe for four offered to go.
For a decidedly upscale restaurant, some of these promotions are too good to be true!
Richard Jay Scholem practically invented the Long Island restaurant culture through 800+ reviews of the region's eateries both on radio and in print over the last 30 years. He is a former New York Times Long Island Section restaurant reviewer, has contributed to the Great Restaurants of...magazines and Bon Vivant, authored a book, aired reviews on WGSM and WCTO radio stations, served on the board of countless community and food and beverage organizations, and received many accolades for his journalism in both print and broadcast media. He is currently available for restaurant consultation. Reach him at (631) 271-3227.