Join Our Mailinglist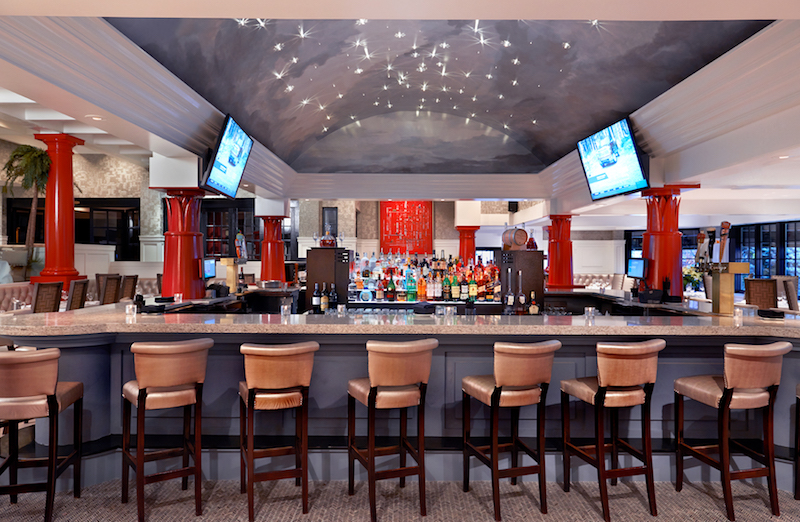 REVIEW: Union Prime Steak & Sushi
July 28, 2015 | Daily Bite

4 Plates
By: Janene Mascarella
You'd be forgiven if you're a steak or sushi fan and have not been to Union Prime Steak & Sushi yet. Not so easily forgivable--reading this and not making plans to go sometime soon. Make that very soon. Located in Great Neck, an area not without its share of steakhouses, Union Prime Steak & Sushi (formerly Burton & Doyle) opened its doors in February 2015 and this 'new kid on the block' is a hipper version of its rough and tumble steakhouse brethren and safe to say... a worthy contender of the premier steak and sushi throne. The menu features prime dry-aged steaks and an artful selection of sushi, Mediterranean seafood and innovative New American specialties.
The interior is anything you would expect from a steakhouse. Inside is modern, bright and comfortably spacious-it's all aglow with a hip, upscale vibe. I first noticed the open kitchen and the vaulted ceilings, champagne-colored booths and luxe seating, sharp and crisp decor... it's the perfect balance of drama with just that right amount of sexy. The main bar 'Alchemy' twinkles with a constellation of crystal lighting. But all the glistening decor pales in comparison to the real star of the show here--the food, and it is out of this world.
Carnivores, sushi-snobs, steakhouse hounds, those with a thirst for creative cocktails - Union Prime Steak & Sushi has it all. I'd say it's the ultimate crowd pleaser and the perfect spot for families, groups of friends or even a romantic night for two. There's also some great outdoor seating as well -- pretty nice way to spend a late summer or fall evening.
Service is everything you would expect from a top-notch steakhouse. Well-trained, knowledgeable, NYC-style service but with a touch more personality than you would expect. Brian, our server for the night was all those things. He had a clever, quick sense of humor that really made us all feel like we so welcome. At times, it took me a few moment to even get his jokes and I even found myself laughing about a few things he said the day after. He was truly a pleasure and helped us navigate the menu like pros.
To start, we ordered a Shellfish Plateaus for Four (lobster, jumbo shrimp, colossal crab meat, blue point oysters, top & little neck clams, poached white water mussels minuette, cocktail & champagne mustard sauces, $135) Incredibly impressive. Next up was a delicious Surf & Turf Roll (1/2 king crab, 1/2 Maine lobster, topped w/ seared Kobe beef, oyster soy drizzle, $38). If you're planning to go light in the apps and only order one, I'd say go with the Pan Seared Sea Scallops (baby spinach pesto, brown butter corn, cherry peppers, $19) Boy, those cherry peppers had some kick and the dish was bursting with a variety of flavors.
Off the dinner menu, I can't put into words how amazing the Braised Lollipop Short Ribs ($49) entree was. This wowed me from start to finish. It's served with wild mushroom & truffle risotto (pure perfection) and a Pinot Noir pan gravy.
The steak: well, from two carnivorous men at the table who would easily drive two hours or more on the hunt for a good steak - it was described as "freaking spectacular". We made sure to order one of Union Prime Steak & Sushi's signature entrees The Porter House Steak for Two (51pp). Again, the verdict has officially been filed as "freaking spectacular." And that really says it all. The sides were spot on (we ordered a ton of them and I highly recommend the Onion Rings and Hash Browns with Bacon. (Oh just go with it!)
Now for desserts, it's always a pass or fail for me. Pass, means save a little room and fail means, not really worth the splurge so just enjoy your meal. Now this is tricky to me because the food is so good my first inclination is to say stuff yourself to the fullest... but... you must, must, must save room for their Warm Cinnamon Bun. It's swirled with cinnamon and topped with vanilla cream cheese frosting. Brian bought along a bowl of vanilla ice cream on the side, for good measure. I knew I liked him!
Union Prime Steak & Sushi
661 Northern Blvd, East Great Neck
(516) 487-9200
unionprimesteak.com