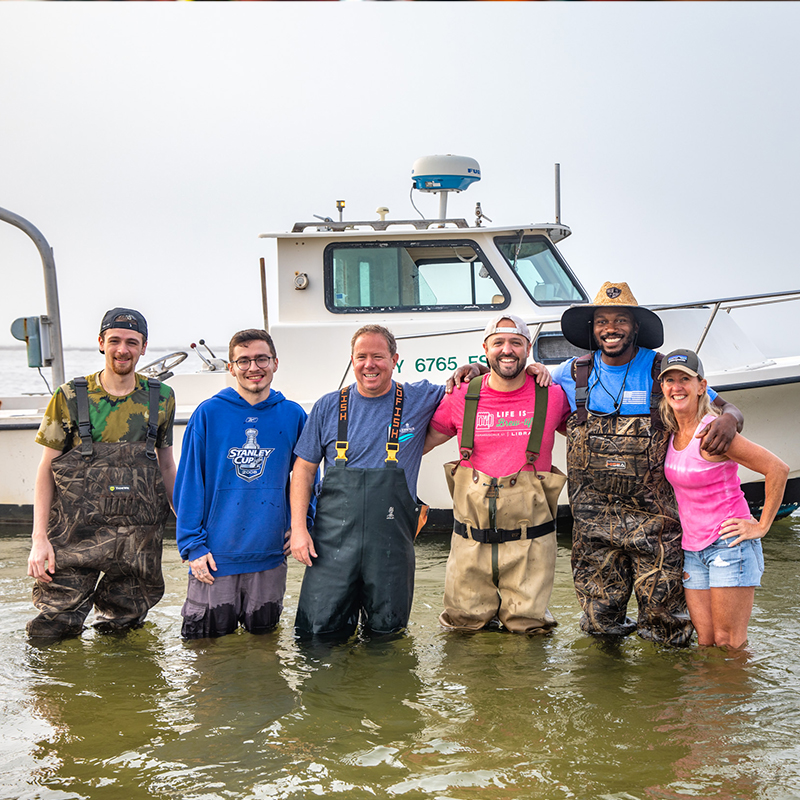 Lessing's Culinary Team Harvests Oysters with Deep Water Oyster Co.
September 9, 2021 | Daily Bite
Leading Long Island Hospitality Group Lessing's Hospitality has partnered with two Long Island oyster farms to deliver the most local and fresh oysters to their restaurant tables. At Sandbar in Cold Spring Harbor, oysters are sourced from veteran and family owned oyster farm, Deep Water Oyster Co. While on the south shore at View in Oakdale, the oysters are sourced from Deep Water Oyster Co. and Shamrock Oyster Co. Shamrock Oyster Co, based in Bayshore.
Recently the Lessing's culinary team got in the water to harvest the oysters with Deep Water Oyster Co.'s owner Marcus Buffaloe. Chef Billy Muzio, Mark Lessing EVP Restaurants, Chef Anthony Mariana, Chef Mike Sabatino and Jen Cantin, Director of Marketing, hit the waters of the Great South Bay and harvested oysters for the restaurants. Buffaloe taught the team about the growth cycle of oysters and their development at various stages. "It was a great hands-on experience for the team providing incredible insight into the true meaning of sea to table," shared chef Billy Muzio.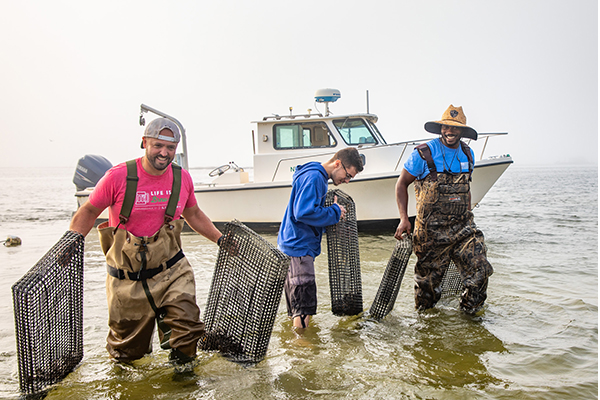 Credit: Lessing's
A delicacy on Long Island, oysters not only taste delicious but these sustainable filter feeders also help clean the bay. The iconic bivalve improves water quality and is a keystone species in the bay. One healthy oyster can filter feed 50 gallons of seawater in ONE day! This helps with the overall effort to clean the bay. They are also a keystone species, meaning a healthy oyster population is integral for the growth and survival of other important species in the ecosystem.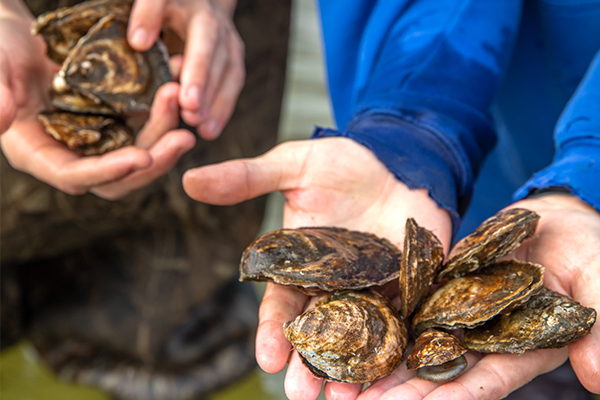 Credit: Lessing's
As part of the company wide #DoGood initiative, Lessing's Hospitality's dedication to improving overall water quality and providing habitat and food for other species is of utmost importance. As a result the company participates in the "Half Shells for Habitat" program. Half Shells for Habitat (H4H), initiated by Seatuck and a host of partners in 2018, is an island-wide program to recover oyster shells from restaurants for use in oyster and habitat restoration efforts. Customers who visit View in Oakdale Monday - Thursday may give back to the oyster recycling project with a $5 donation given to each table which may be donated to Save the Great South Bay Oyster Project.