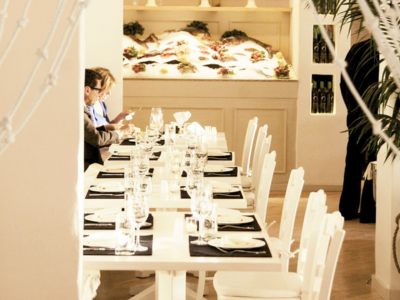 Kyma Celebrates 10 Years!
April 25, 2023 | What To Do
On Friday, April 28th, Kyma in Roslyn will celebrate a decade!
On Friday, April 28th, Kyma in Roslyn will celebrate a decade! The award-winning restaurant has won over many Long Islanders for its delectable Greek cuisine, Santorini aesthetic and warm atmosphere.
For the uninitiated, Kyma's design transports one from Long Island to the Greek Islands. Generous seating at long white wooden tables are lined with plush, white canvas cushions. More intimate tables also dot the larger dining room. The fresh fish display is not only a tease for what is to land on your plate but an elegant addition to the Mediterranean atmosphere. A sleek, oval bar separates the dining room from the lounge area. Here you will have your choice of standing cocktail banquettes, bar and lounge style seating. The resident DJ never fails to keep the energy high, which has helped make Kyma a popular hangout during the warmer months. The outdoor patio is also perfect for al-fresco dining and has some sweet views of the quaint village of Roslyn.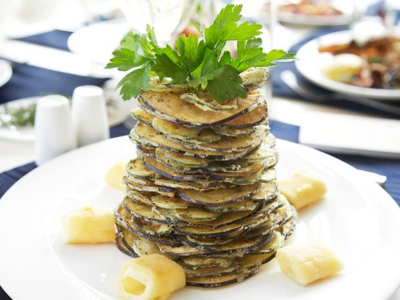 Kyma will kick off the celebratory weekend with 10-year promotional pricing on the signature Kyma chips ($10) and the signature cocktail, the Kymatini ($10). Complimentary prosecco will be poured throughout service and Kyma's own brand of imported olive oil will be offered to guests as a take home gift. On Friday evening, patrons can enjoy ice carving, balloons and as always, DJ-spun tunes. The promotional pricing on the Kyma chips and Kymatini will continue through Sunday, April 30th. Dinner menu highlights include the sesame feta, halloumi, or Grilled Cypriot cheese, watermelon salad, red snapper and fagri fish dishes, moussaka and lamb chops.
Join in on the festivities this weekend and here's to a decade more of fine dining at Kyma!