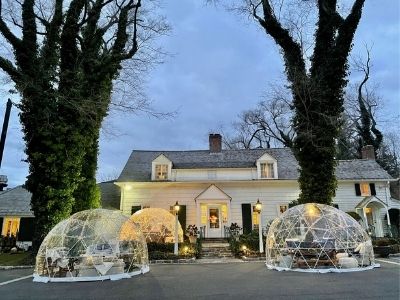 Restaurants with Outdoor Igloos
December 1, 2021 | What To Do
Igloos are one of only positives to come from the pandemic. Even when the weather is colder than a polar bear's toenail, they allow us to enjoy a meal outdoors! Grab your best winter apparel and enjoy the following al fresco dining set-ups for the winter months.
Konoba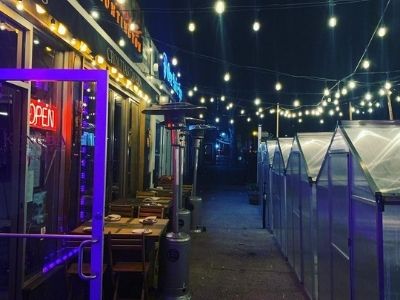 Credit: Konoba
Konoba brings Croatian cuisine to downtown Huntington! The extensive list of warm appetizers, featuring pumpkin bisque soup, bacon-wrapped stuffed dates, crisp Rhode Island calamari and truffle fries, will warm you up on a cool night. Delectable entrees include the beef goulash stew (carrots, pearl onion, celery, tomato and gnocchi), cevapcici (skinless sausages of minced beef, lamb, pork, red onion, fries, ajvar mixed vegetable relish in Lepinja pita) and if you're in the mood for seafood, try the cuttlefish ink risotto. The rain and snow heated greenhouses in the front of the restaurant are available for individual and group dining. The intimate igloos, at Konoba allows diners to control the music via Bluetooth and you'll have the option of reserving a heated open-air fire pit table with a heat lamp. Call to reserve! (631) 824-7717.
.
Mirabelle Restaurant & Tavern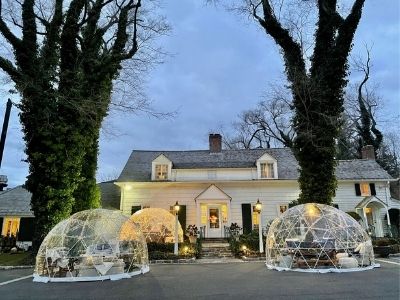 Credit: Mirabelle Restaurant & Tavern
Mirabelle Restaurant & Tavern at the Three Village Inn in Stony Brook has three igloos, the Guy Gloo, Noir and Chalet. All are cozy and casual and can seat up to six. Each have cushioned blue wooden chairs paired with oversized pillows, a quilted carpet, a coffee table and lights in every direction and the menu boasts French bistro classics along with American comfort food. Chef Guy Reuge has also created a fresh-meets-French-farm-to-table prix fixe menu including the Hudson Valley foie gras (different preparation daily), warm goat cheese salad, Kobe beef sliders and seared Scottish salad.
Wave Seafood & Steak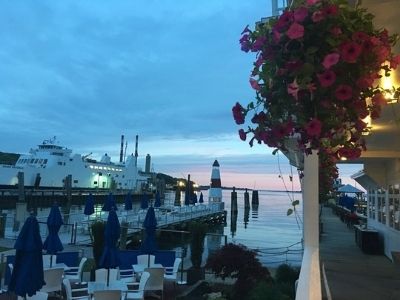 Credit: Wave Seafood & Steak
The igloo at Wave at Danfords Hotel allows you to take in stunning views of Port Jefferson Harbor while enjoying a wonderful meal. You would be hard pressed to have a bad day after indulging in their sweet Belgian waffle or fluffy omelets with a cup of their freshly brewed coffee for lunch. Wave's igloos also allow you to connect to Bluetooth speakers and are sanitized in between dining times. Reservations are available for lunch or dinner for up to two hours and cost $150 plus a $100 food and drink minimum, and two bottles of champagne are included. Additionally, Wave is hosting several festive events this holiday season, including a Charles Dickens-themed brunch, a Santa brunch and a Christmas Eve prix fixe menu. Call 631-928-5200, ext. 170 for more information.
Harbor Mist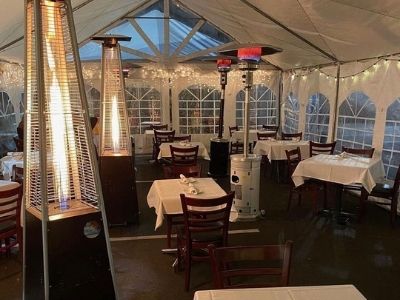 Credit: Harbor Mist
Harbor Mist is three great restaurants in one, serving stellar steak, seafood and Italian cuisine. Their three igloos overlook Cold Spring Harbor and are located in a bucolic setting near the restaurant's parking lot. Diners also have the option to sit in a tent with heat lamps or for the brave, traditional al fresco dining seating is available. Scrumptious menu items include the linguine and fresh local clams, sesame crusted yellowfin tuna, marinated grilled lamb chops and organic chicken parmesan. Reservations are capped at two hours and there is a $200 minimum. Reservations can be booked on OpenTable or by calling 631-659-3888.
.