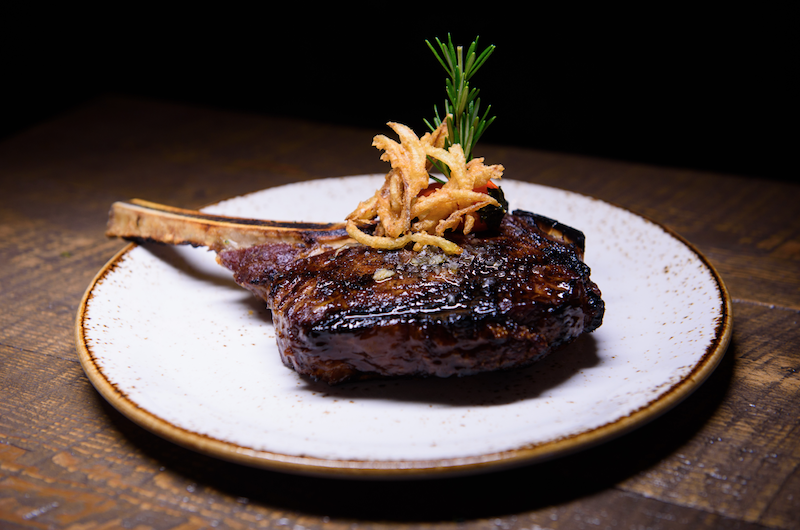 Hot New Restaurant Now Serving in Cedarhurst
January 11, 2018 | Daily Bite
DOMA Land + Sea is a Modern American Steakhouse that has established itself as one of the hottest new restaurants to open on Long Island in 2017.
Located in Cedarhurst, the concept was coined by brothers Boris and Eddie Safaniev and already has earned impressive accolades - the restaurant was awarded 3-stars by Newsday's food critic, Peter Gianotti.The two found their inspiration for the hot new restaurant through their worldly travels but also managed to carefully curate a design that pays homage to their roots.
The word "doma" translates loosely to "house" or "dwelling" in Russian and Latin. Therefore, the space was created with the intent of emulating one's home. Guests enter into the bar and kitchen, a semi-open area to mimic the living kitchen where one would cook and socialize with guests. Next is the "land and sea room", or the "living room". Walls are adorned with bright and stimulating pieces by rising pop artist, Elizabeth Sutton, while the chic atmosphere is illuminated by more than 200 Edison-style lightbulbs. It's said to be the fun space in the home where one would spend most of their time entertaining. The last room is representative of the "formal dining room", the room that you only go in for special occasions. It serves as additional seating for regular dining, but also can be used for private parties.
Executive Chef Oscar Martinez is no stranger to the culinary world. Martinez has spent his career perfecting the trade in renowned restaurants such as, Windows of the World, the Old Homestead and Michael Jordan's Steakhouse. Most recently, he helped launch The BBG - one of Long Island's newest and most favorite steakhouses.
Chef's menu highlights the finest cuts from the land and the freshest catches from the sea. The showstopper is the Argentinian Grillworks wood-burning grill. The 81-inch masterpiece is a rarity in the region and provides the most authentic dishes you'll ever set your eyes on. Standouts include, the 24-ounce Bone-In Rib Steak; the 42-ounce Tomahawk Chop for Two; and the Chile Rubbed Delmonico.
The non-red meat options can't be overlooked... sushi is aplenty. As is fresh whole fish and a variety of entrees, liked the pappardelle Bolognese and the steakhouse salmon. Don't skip dessert either. You don't want to miss the towering cloud of cotton candy or the donut tree!
Reservations are highly recommended and should be made in advance. Just call the restaurant directly.
DOMA Land + Sea
490 Chestnut Street
Cedarhurst, NY 11516
(516) 881-7712
domalandsea.com