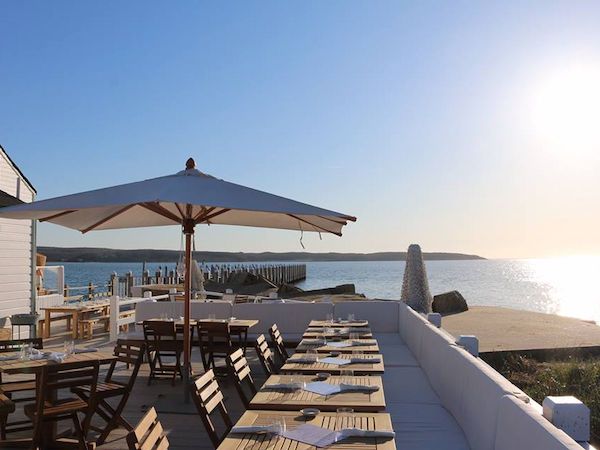 Supper by the Sea
June 18, 2018 | Daily Bite
Summer's here, and there's no better way to celebrate than with your fill of delicious food and beautiful views. If you're looking to enjoy that famous Long Island shoreline, here are our choices for restaurants that put the "water" in "mouthwatering".
The Beacon – Sag Harbor
At The Beacon, beauty isn't just on the inside. If the stylish interior décor isn't enough, head to the outdoor patio and enjoy stunning views of Sag Harbor Bay. Couple that with some of the best New American cuisine around and it's easy to see how this restaurant has quickly become such a hotspot.
The Bell & Anchor – Sag Harbor
Situated off the beaten path outside of the Village of Sag Harbor, the Bell & Anchor is one of the best kept secrets of the Hamptons. Offering scrumptious, local seafood and other favorites, diners can enjoy a mouthful and an eyeful while taking in breathtaking views of the Mill Creek Marina for the complete Hamptons experience.
The Cliffside – Port Jefferson
Formerly Lombardi's On the Sound, diners can feast more than just their eyes at The Cliffside! This Port Jefferson restaurant provides spectacular panoramic views of the Long Island Sound complete with a well-rounded menu with offerings sure to delight any palate.
Duryea's Lobster Deck – Montauk
Duryea's is one of Montauk's oldest and most established spots for waterfront dining, and it's no surprise. If their famous lobster rolls aren't enough to entice you, you're sure to be won over by the incredible views they offer of a seaside sunset.
Harbor Bistro – East Hampton
This waterfront eatery is a must for any East Enders. The restaurant overlooks Three Mile Harbor Marina, allowing diners to enjoy some of the best snacks and sights that the Hamptons has to offer. A stunning waterside vista enjoyed alongside the perfect meal... what could be better?
Navy Beach – Montauk
Sometimes, just seeing the beach isn't enough. Sometimes, you've really got to feel the sand in-between your toes for the perfect dinner. Thankfully, Navy Beach in Montauk is here for you. With a menu of tantalizing casual coastal cuisine and an unbeatable location right on the beach, there's no better way to enjoy a classic summer meal.
VIEW – Oakdale
Who says you need to go to the East End for premier waterfront dining? VIEW provides all the breathtaking oceanic vistas anyone could hope for right from Oakdale. Enjoy views of the Great South Bay, or arrive by boat to enjoy some of Long Island's finest dockside dining.