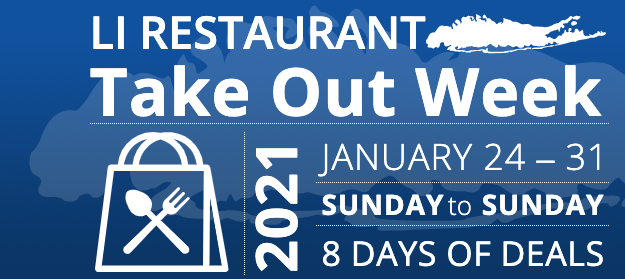 Winter Long Island Restaurant Week - All About Takeout!
November 23, 2020 | Budget Gourmet
The tri-annual and award-winning Long Island Restaurant Week made an exciting announcement this week - Winter Restaurant Week is back! With all the uncertainty surrounding when restaurants will be able to fully reopen, they've announced a new twist to the promotion - this winter, it's all about takeout.
Long Island Restaurant Week remains the best time to support local businesses, try new restaurants, and savor old favorites. This time, you'll just be doing it from home! Restaurants may offer a $25 OR a $35 three course prix fixe menu, available for takeout. The list of participating restaurants is updated daily, click here to view.
Following trend with the Fall promotion, the event is all about raising money for those in need! Local independent restaurants are the backbones of our communities, there for our happiest moments, our saddest moments, and all the moments in between. Long Island Restaurant Week wants to be part of the solution in giving back, so this Winter promotion is dedicated to raising money for two very worthy organizations; the Independent Restaurant Coalition and Island Harvest.
This Winter, we are encouraging visitors to the site to make donations to the Independent Restaurant Coalition, which supports restaurants through legislative change, and Island Harvest, which provides assistance to thousands of in-need individuals each week through innovative programs and services.
Included in the Restaurant Week promotion is a $25 three-course dinner, or a $35 three-course prix fixe dinner TO GO. Restaurants may choose to offer any combination of the offerings. Some restaurants may also be offering the promotion for limited indoor and outdoor dining! For a full list of participating restaurants and their offerings, visit the Long Island Restaurant Week Website.