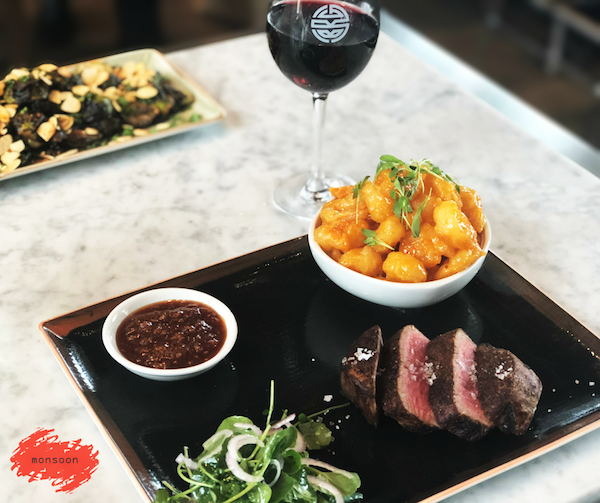 Surf & Turf Sundays, Wine Down Wednesday and More at Monsoon Steak & Sushi!
September 12, 2018 | Budget Gourmet
The summer season is coming to an end and there's no better way to welcome a new season than with new promotions and deals.
Monsoon Steak and Sushi, an Asian lounge that showcases a refined blend of Asian cuisines in exquisite fashion, offers small plates to share, sushi specialties, black angus steaks and so much more, including promotions offered on Sundays, Wednesdays and Fridays!
Looking to enjoy a special night with the one you love? Nothing says date night like Surf & Turf Sundays! Surf and Turf selections are available for $25 every Sunday and include: Filet mignon and spicy rock shrimp tempura served with tempura batter, spicy mayo and sweet chili sauce; New York strip steak with shrimp and lobster wontons served with a pan-seared hoisin glaze and miso-mustard; and Mongolian skirt steak and crab cake served with dry aged skirt steak with Mongolian marinade, red crab, chipotle cream and charred tomato watercress salad.
Stressed at work and need to grab a mid-week drink? Upgrade it to a bottle and enjoy Wine Down Wednesday, when all bottles of wine are HALF OFF. Thank god it's… prix fixed Fridays! Grab some co-workers and end your week with a delicious prix fixe menu for $29.95, offered every week from 4 p.m. to 12 a.m. Make the night extra special by adding a martini, glass of wine OR sangria for just $8. Menu selection, subject to change, includes:
First Course
Choice of one

Thai Salmon Cake
Hoisin, scallion, cucumber tartar sauce

Tempura Eel Roll
Cucumber, bib lettuce, eel sauce

Skirt Steak Yakitori
Kalbi marinade, sesame, scallion

Rock Shrimp Tempura
Spicy chili mayo, cilantro


Second Course
Choice of one

Filet and Shrimp Scampi
Petite filet, garlic and ginger scampi butter, wild rice, Thai basil chili oil

Grilled Atlantic Salmon
Tamari and brown sugar marinade, mixed vegetable lo mien

Seared Beef Filet Tips
Wok seared filet mignon, green peppercorn sauce, rosemary garlic potatoes

Maple Leaf Glazed Duck
Honey lemon ginger glaze, wild rice, season vegetables

Korean Fried Chicken
Asian fries, miso mustard sauce, lime


Dessert
Choice of one

Crème Brulee
Vanilla custard, caramelized sugar, fresh berries

Green Tea Gelato
Honey waffle cone, local strawberries, dark chocolate sauce

Seasonal Soft Serve
Chef's choice
Monsoon Steak and Sushi will also be participating in Long Island Restaurant Week from Sunday, November 4 through Sunday, November 11! Click here to view a full schedule of events and call (631) 587-4400 to make your reservations.