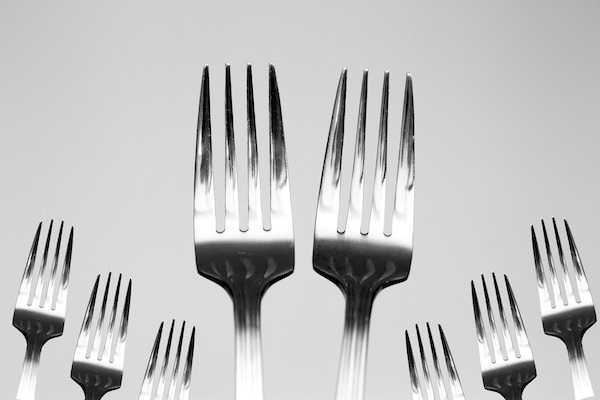 Get the Facts on Long Island Restaurant Week
June 25, 2019 | Daily Bite
The diners have spoken, and here's what they have to say!
Thanksgiving? Overrated. Christmas dinner? So last year. We know the real event that gets diners drooling: Long Island Restaurant Week! The tri-annual promotion has helped foodies across Nassau and Suffolk find fabulous feasts at affordable prices for over 12 years. And with a $29.95 prix fixe three-course dinner, what's not to love?
Still, there's always room for improvement. That's why Long Island Restaurant News recently conducted a mass survey polling hundreds of diners to hear their thoughts on what they love about Long Island Restaurant Week, and what they'd like to see changed. Check out what they had to say below, and feel free to send your own thoughts to us at editor@longislandrestaurantnews.com!
Are you the master of your own kitchen, or do you prefer to leave the cooking to the professionals? According to our poll, most Restaurant Week diners treat themselves to a meal out either multiple times a week (45.7%) or multiple times a month (47.31%). Eat on!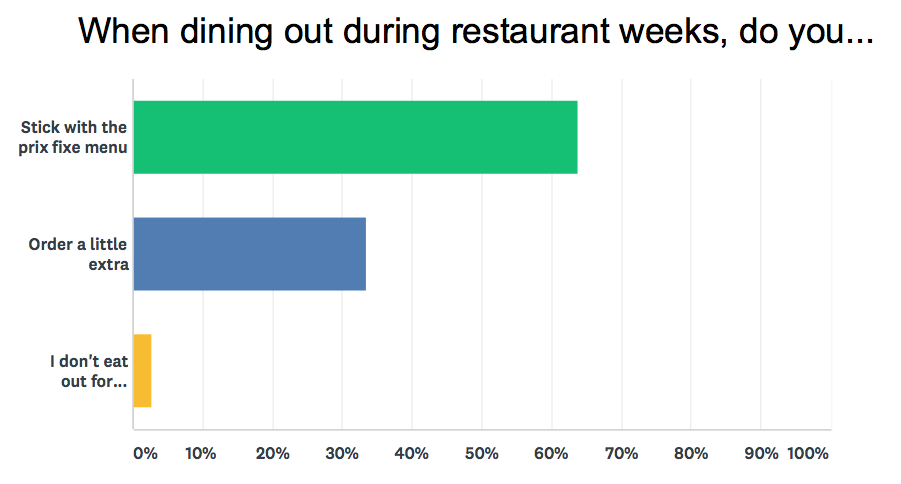 Do you like to treat yourself to a little extra somethin' somethin' during dinner? Well, you're not alone. 33.51% of diners end up ordering something not on the prix fixe menu, so go ahead and get that second round of dessert next time you go out for Restaurant Week!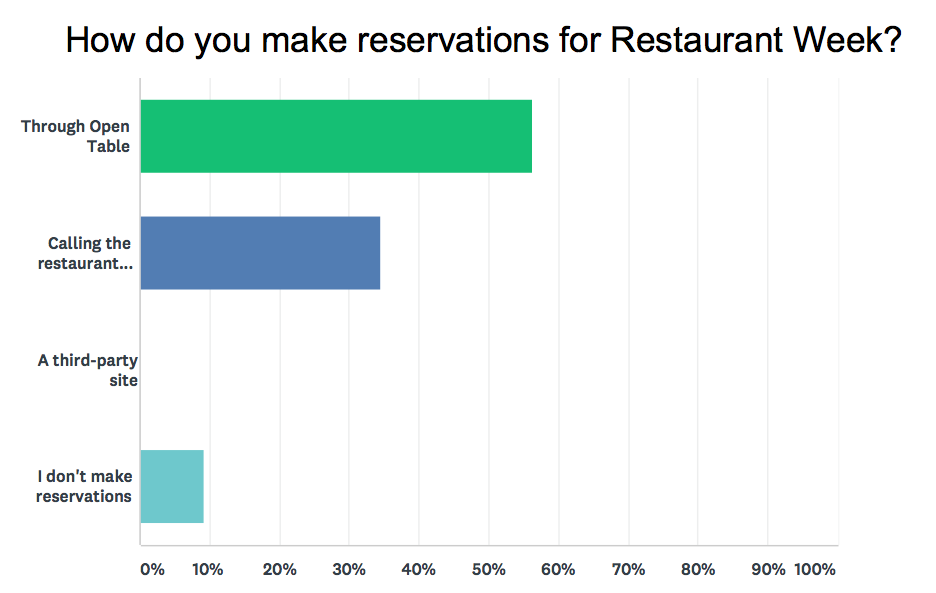 If you like the added security of making a reservation before you head out for dinner, consider yourself part of the majority: 90.81% of diner prefer to make reservations for Restaurant Week. Additionally, most diners prefer utilizing the web to old-fashioned phones, with 56.22% booking their tables through Open Table.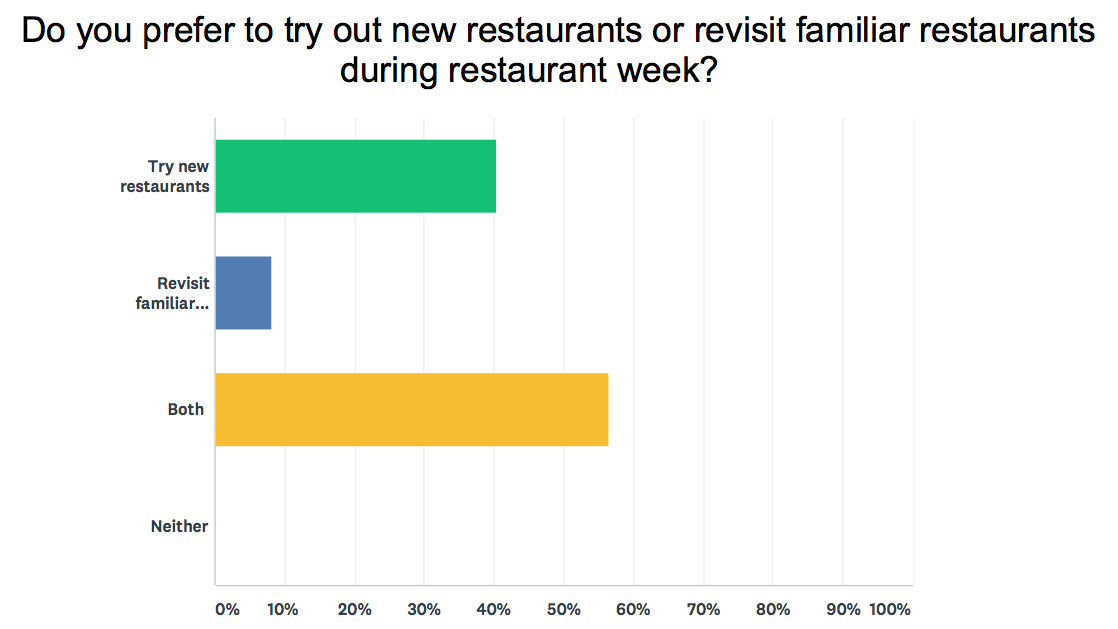 It's the classic Restaurant Week dilemma: should you go out and try something new, or play it safe and visit an old favorite? If you have a hard time deciding between your regular haunt or mixing it up, just look to the numbers. 32% of diners prefer taking advantage of the promotion to try something new, with 56.45% of diners deciding to do a little of both!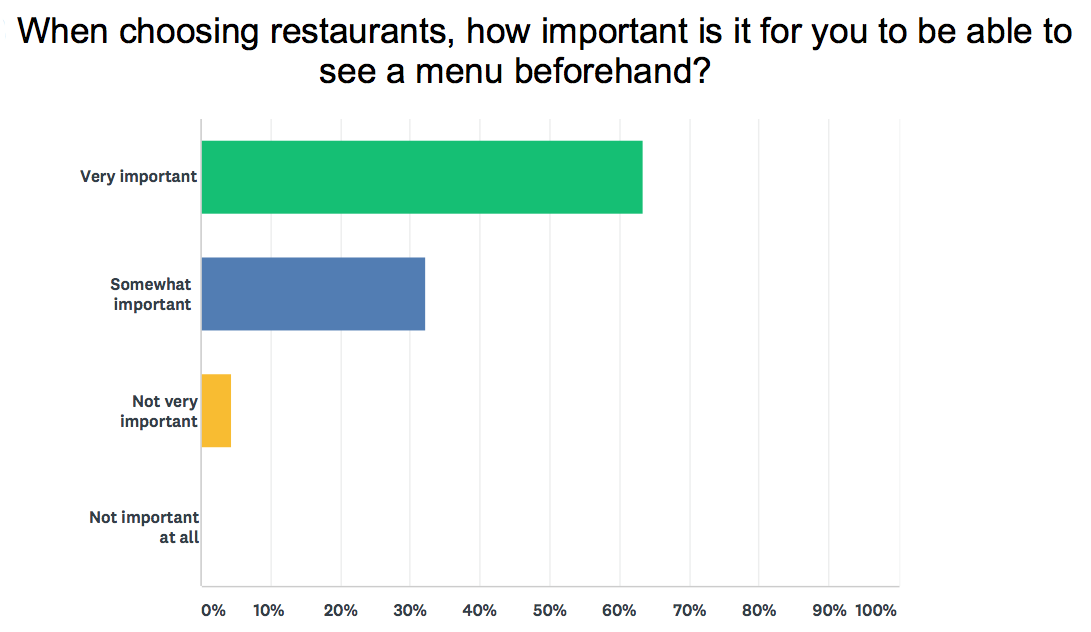 Surprises can be nice, but when it comes to planning a dinner out, it seems most of us prefer to know a little more about the dishes in advance. 63.44% of diners strongly prefer getting to take a gander at the menu before making the critical choice of where to eat.
Q9: The Future of Restaurant Week?
We care about your voice, and that's why we're listening to what you have to say about what you'd like to see improved for future Restaurant Weeks! When polled on what they would like to see changed, here's what you all had to say:

• Bigger is always better, especially when it comes to a tasty dish! That's why 11.24% would like to see larger portions when they go out to eat so they can leave the restaurant feeling well and truly stuffed.

• There's nothing wrong with sticking to the classics, but some adventurous foodies like to use Restaurant Week to explore a bit outside of the culinary box. According to our poll, 22.49% of diners are interested in seeing restaurants add a little extra pizzazz to their prix fixe menu offerings. It just goes to show that variety truly is the spice of life!

• Some of us (okay, okay… most of us) already have a hard enough time waiting for Restaurant Week to come around. Therefore, it's no surprise to know that a 14.9% of us would like to see some of the restaurants post their menus sooner so we can get a head start on making plans. Talk about chomping at the bit!
Q10: What Do Diners Have to Say About Restaurant Week?
We wanted to hear it straight from the horse's mouth, so that's exactly what we did! Here are a few things people had to share with us about their Restaurant Week experiences.

- "No improvements; it's wonderful to experience new or old restaurants!"

- "I'm satisfied. I truly enjoy Restaurant Week. I usually visit two or three restaurants and write a review for a community newsletter."

- "Change it to Long Island Restaurant Year - LOL! Just kidding, generally satisfied with most of my experiences during Restaurant Week!"
A huge thanks to everyone who took place in our poll! Be sure to subscribe to our mailing list or follow us on Facebook and Instagram to learn how you can participate in our next survey. One lucky winner will receive $25 for participating, so don't miss out! For more information on the next Long Island Restaurant Week, click here.