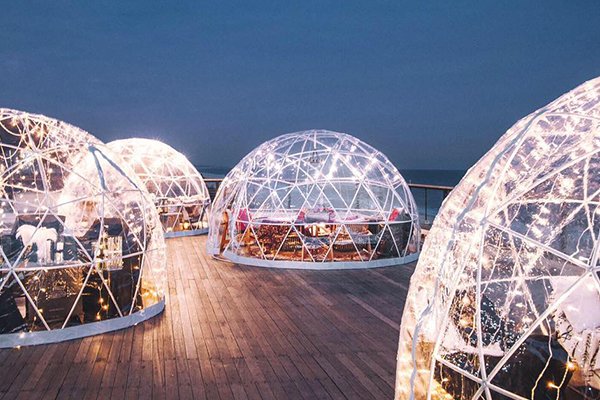 Warm Up This Winter in a Trendy Igloo
January 28, 2020 | What To Do
Igloos are the hottest (or coolest) trend this winter and they've been popping up all across Long Island.
Snuggle up in one of these bubbles near you while you enjoy seasonal snacks, drinks and great views.
The Baker House 1650 - East Hampton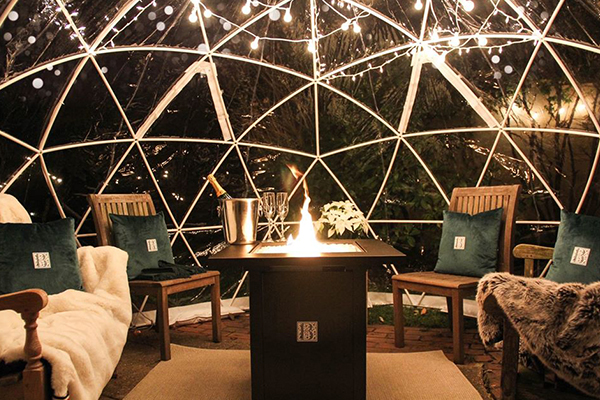 Photo Credit: The Baker House 1650
Experience the magic of winter in the Hamptons from the Baker House igloo! The igloo features a firepit, comfy seating with The Baker House pashminas, velvet pillows and blankets provided by Pretty Rugged Gear. The igloo seats six and offers a special Bubbles & Bites menu featuring wine, champagne, cocktails, soft drinks, a crudités plate and a meat and cheese board. They are available by reservation and features a two drink minimum and a suggested minimum of $25 per person, which is donated to Veterinarian's International.
Gurney's Montauk Resort & Seawater Spa - Montauk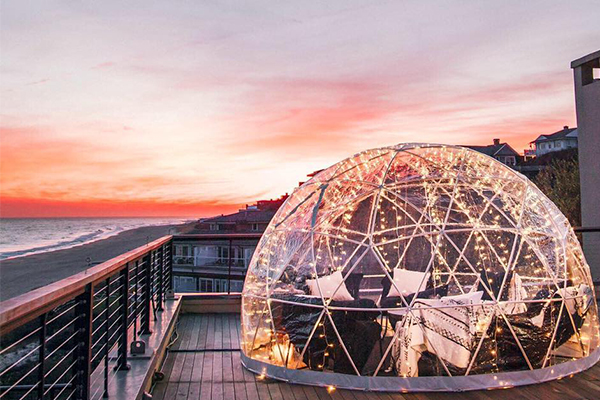 Photo Credit: Gurney's
Cozy up and enjoy a stunning oceanfront view in one of Gurney's new igloos. Back for their second season with upgraded themes, Gurney's offers seven private spaces, all with a distinct theme, complete with activities, props and dedicated cocktail pairings. Each igloo accommodates up to six people, and offers a special menu featuring drinks and snacks. The cost is $25 per person for a two hour reservation, which is donated to the Make-a-Wish Foundation.
Smuggler Jack's - Massapequa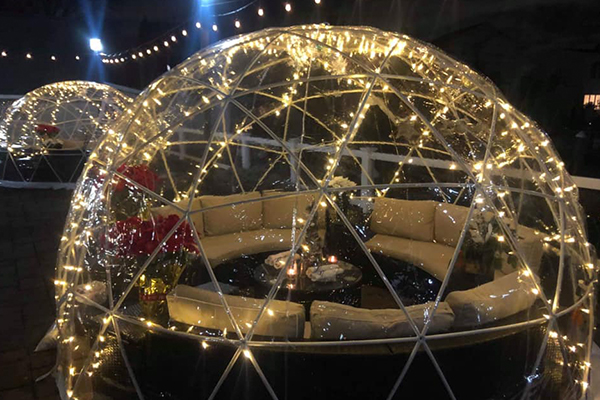 Photo Credit: Smuggler Jack's
Smuggler Jack's, tucked away in a quiet Massapequa neighborhood, has a seasonal igloo available for groups of up to ten. Enjoy the view of the peaceful Schmidt Canal while noshing on specialty small plates and cocktails from their special igloo menu. The menu includes snacks like mini burrata and popcorn shrimp, and drinks like the Winter White Cosmo, served with Stoli vodka, Cointreau, white cranberry juice, St. Germain elderflower liqueur and lime juice. The cost is $75 for a 90 minute reservation, and includes the first round of drinks!
Maxwell's - Islip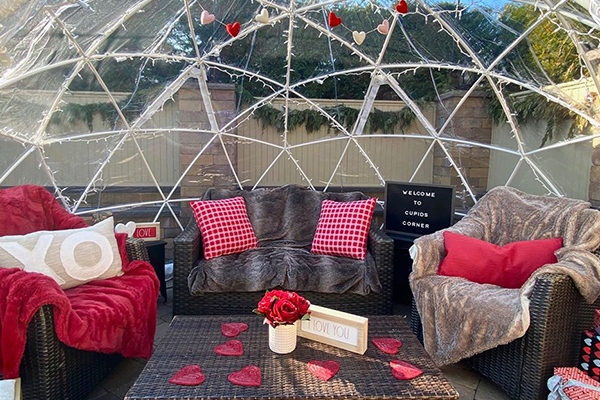 Photo Credit: Maxwell's
Cuddle into one of Maxwell's three winter themed igloos. Featuring romance themes for the month of February, these igloos are the perfect winter retreat. Offering seating for up to eight people, the cozy Valentine's Day vibe is complete with specialty cocktails including the Cupids Punch, served with Three Olives Rosé vodka, St. Germain, fresh lime, pomegranate and ginger ale. Igloos are available by reservation only, for two hours per booking for $150. The cost includes the first round of drinks and an exclusive server for the duration.
RHUM - Patchogue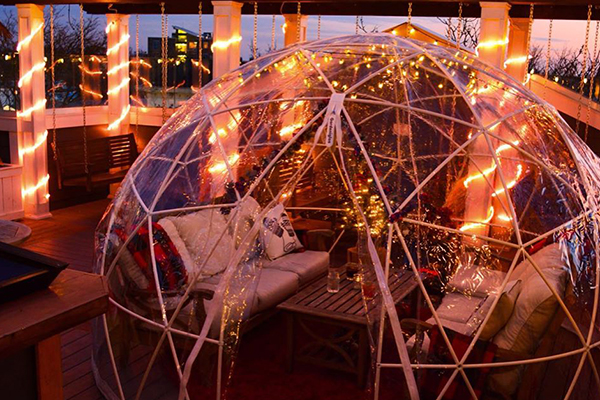 Photo Credit: RHUM
Up on the terrace overlooking the village of Patchogue, RHUM has unveiled their own cozy and festive igloos. The heated domes can seat up to six people. Decked out with blankets and cozy winter décor, the igloos at Rhum are the perfect setting for a winter night out. Cost is $150 for two hours, which includes the first round of drinks or two carafes of rum punch, margarita or sangria.
Finnegan's - Huntington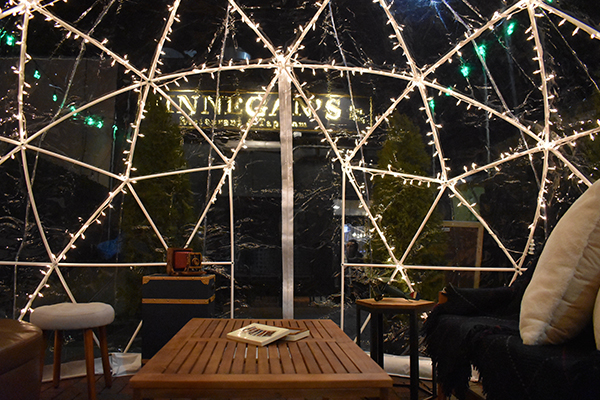 Photo Credit: Finnegan's
New to the igloo trend is Finnegan's in Huntington. When you enter the Finne-"gloo", you'll feel as though you stepped back in time to 1912, when Finnegan's Restaurant & Tap Room became the preferred meeting spot of Huntington Village. Cozy up with plaid pillows and blankets all while sitting beside the crackling fo the fire surrounded by antiques. The igloo is available in two hour increments, with seating for up to eight people. Cost is $150 and includes your first round of drinks.