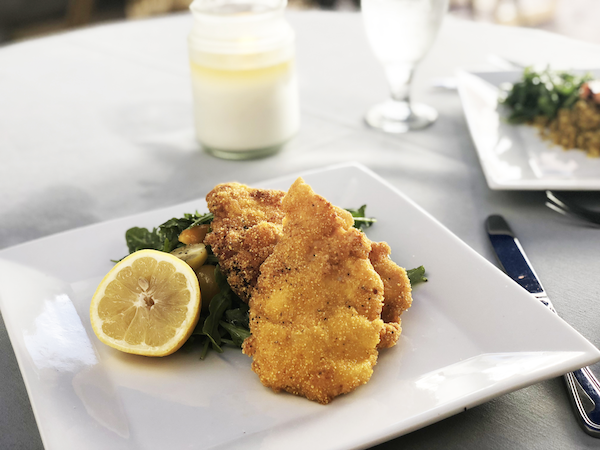 Culaccino: Now Serving!
July 13, 2018 | Daily Bite
Tucked away in the Water Mill Square is one of the hottest new restaurants to hit the Hamptons this season - Culaccino.
The modern, minimalist concept boasts Italian influence and focuses on locally sourced ingredients. The Italian word "Culaccino" refers to "the mark left on a table by a glass," and that is precisely what Chef-Owner, Jon Albrecht, and his team intend to do - leave a mark.
Lunch is served daily from noon to 3 p.m., and dinner from 5 to 11 p.m. Reservations can be made by calling the restaurant directly at 631-500-9310. Menu selection includes:
Small Bites

Watermelon Gazpacho $12

Burrata $14
Cherry tomatoes, lemon basil, charred citrus oil, sea salt

Summer Salad $12
Avocado, arugula, peaches, goat cheese, pistachios, balsamic reduction

Ricotta Frito $14
Ricotta mint-pancetta fritters, gluten-free breading, leek-sorrel aioli

Quinoa Salad $12
Quinoa, dried cranberries, pickled cucumber, pickled onions, diced sweet potatoes, feta cheese

Entrées

Edamame Spaghetti $22
Organic edamame pasta, fresh tomato, wild mushrooms, black garlic, coconut oil, lemon zest

Bucatini Avocado Carbonara $22
Avocado, egg yolk, garlic, lemon juice, cream, pancetta

Grilled Rosemary Salmon $21
Lavendar-rosemary

Milanese $20
Gluten-free herb breaded organic chicken breast, arugula, lemon vinaigrette

Chicken Confit $28
Chicken confit, wild mushrooms, quinoa flour crepe

Grilled Eggplant $24
Lightly grilled Sicilian eggplant, mushroom ricotta, cherry tomatoes

Grilled Hangar Steak $38
Chimichurri, sweet potato frites

Wild Boar Chop $42
Double-cut, bone-in chop, Lambrusco compound butter
Culaccino
670 Montauk Highway
Water Mill, NY
631-500-9310