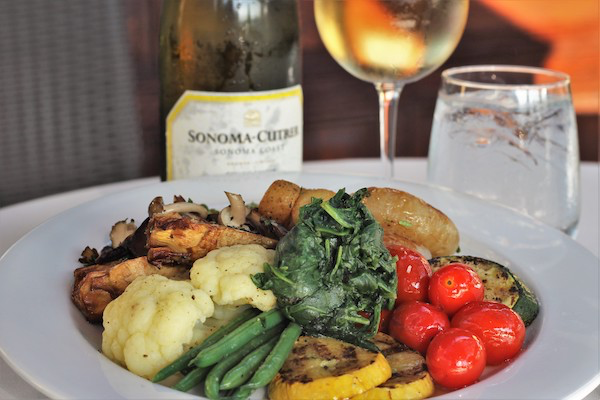 Celebrate Summer at Jonathan's Ristorante
August 3, 2018 | Daily Bite
August is here, but have no fear. Jonathan's Ristorante is keeping the summer going strong with some fresh additions and renovations!
To celebrate the season, this Huntington hotspot is offering new dishes that feature seasonal ingredients perfectly suited for the warm weather, and that's not all! Enjoy their scrumptious summer three-course prix fixe menu, weekly live music, and drink specials all while relaxing on the spacious new outdoor patio. For more deets on the eats, beats, and more, check out below.
Summer Menu Items:

Insalata di Cocomero
Mint, watermelon & ricotta salata

Arancini
Mushroom mini rice balls with truffle aioli

Parmigiana di Melanzane
Eggplant parmigiana

Burrata
Peach, heirloom tomato & crispy kale

Speck
Smoked prosciutto, figs & shaved parmigiana

Piatto di Vegetali
Zucchini, cauliflower, spinach, tomato, cipollini & wild mushrooms

Salmone
Heirloom potato/string beans salad & dill vinaigrette sauce

Branzino
Crispy whole branzino, frisee, fennel & apple salad
Prix Fixe Menu:

The $35 three course summer prix fixe menu is available all night every Sunday through Friday. Treat yourself to delectable dishes including:

Caprese Salad

Crab Cake
Frisee & apple salad

Sautéed Shrimp
Baby artichokes, jasmine rice & French string beans

Long Island Duck Breast
Farro, Brussel sprouts & blackberry sauce
Live Music:

What's dinner without some tunes? Every Friday from 7 to 11pm, local artists like PaNo and Eran Polat will be entertaining guests with live Mediterranean beats on the patio, weather permitting. Sounds like music to our ears!
Drink Specials:

Lift your spirits with discount spirits!! From 5 to 8 pm every Sunday through Friday, you can raise your glass to happy hour specials at the bar or on the patio. Specials include:

$3 off all cocktails, wine and beer

$1.50 Little Neck Clams

$1.50 Shrimp Cocktails

$2 Oysters

$3 Oysters Rockefeller

$3 Clams Casino

$4 Crab Cakes

$4 Mushroom Truffle Arancini


For a truly magical night, sip away on some of their new summer cocktails! Options include:

Lampone Rye
Bulleit rye, dry vermouth & raspberry

Rosso Lavanda
Citrus vodka, Fonseca Bin 27 Porto & lavender


If wine is more your style, don't worry! Every Sunday and Tuesday night, you can enjoy 30% off all bottles of wine on the Wine Spectator award winning wine list that are $60 and up. The perfect night is just a glass away!
Jonathan's Ristorante
15 Wall Street
Huntington, NY 11743
(631) 549-0055