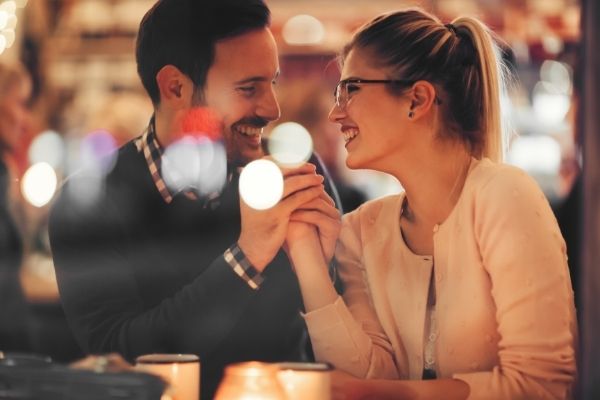 Most Romantic Restaurants for Valentine's Day
February 2, 2022 | Daily Bite
The quickest way to someone's heart is through food. Spending quality time with your loved one over a delicious meal is always a great way to celebrate Valentine's Day. However, restaurant choice can make or break date night. We're here to make that task easier for you by narrowing down the four best restaurants to dine on February 14th.
Kyma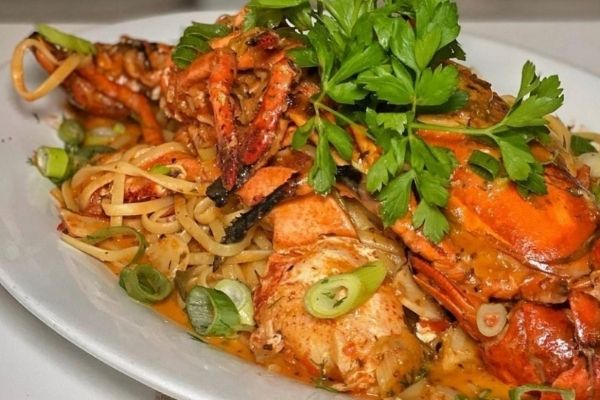 Credit: Kyma
Kyma in Roslyn is the complete package, providing an elegant, romantic ambiance as well as top-notch Greek cuisine. It was recently included on Newsday's Top 100 Long Island Restaurants list in 2021. The lemon tree towards the front entrance and white ceiling, walls and tables create a serene setting. Start the meal off with Kyma chips (paper-thin slices of crisp zucchini and eggplant served with tzatziki sauce). For seafood fans, the sweet meaty fagri (from the Mediterranean) is wonderful, as is the lavraki, dorado, black sea bass and pompano. A favorite Greek salad is the watermelon salad with arugula, walnuts, and feta in a light jalapeno dressing.
Lulu Kitchen & Bar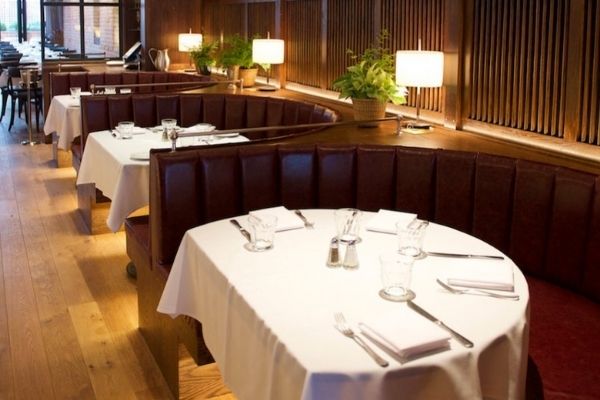 Credit: Lulu Kitchen & Bar
After a peaceful stroll through Main Street of Sag Harbor, treat you and yours to a delectable meal at the charming Lulu Kitchen & Bar. The smells of wood-smoke emanates throughout the restaurant, as Executive Chef Phillipe Corbet uses a wood-burning oven at the heart of most menu items (you may even be able to smell the smoke when passing on the street). Excellent grilled options include octopus, branzino, grilled butternut squash steak (served with chimichurri sauce), and Duryea's lobster cobb salad. If you want to share a meal, the rack of lamb, prepared with harissa yogurt sauce and Israeli salad, serves two. For dessert the banana trio (banana brulee, banana bread and banana ice cream with caramelized pecans, raspberry mocha minitini (stoli vanilla, chocolate liquor, espresso and raspberry puree) and apple tarte tatin for 2 (whipped vanilla crème fraiche) are beyond words.
Almond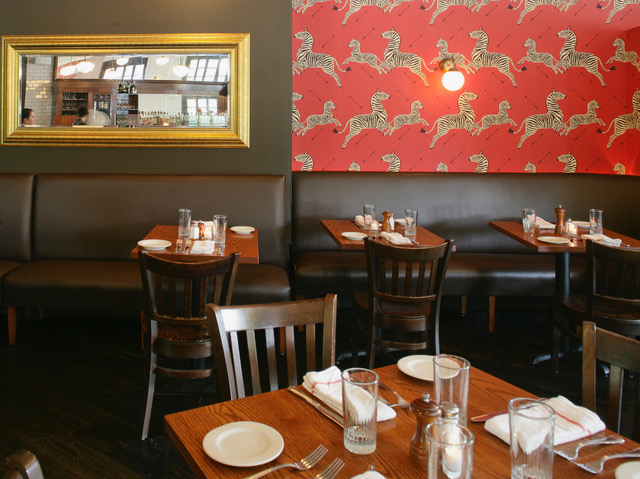 Credit: Almond
Sitting at the end of Ocean Road in Bridgehampton, Almond has become a beloved spot for locals and celebrities alike since opening its doors in 2001. With a simple, locally-sourced menu, 100-year old tin ceiling, hand-carved bar and white tiled walls, it's easy to understand why. For Valentine's Day, Almond is offering a four-course "Shades of Red" menu that will be $90 per person. Menu items include iced Fisher Island oysters, foie gras torchon, tuna poke, ricotta ravioli, up-island duck breast and roast scallops. Do not leave the bistro without trying one of these two desserts: blood orange and chocolate dessert and warm snickerdoodle (5 piece eggnog), sticky toffee date cake, and pumpkin panna cotta ((wheatberry granola, pomegranate molasses).
Sandbar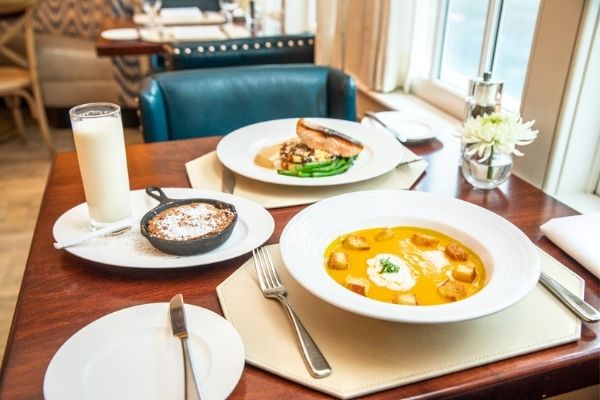 Credit: Sandbar
Like an arrow through the heart from Cupid, you will fall in love with Sandbar in Cold Spring Harbor. The dining room is stunning, with dozens of windows, chandeliers, and light brown, sand-colored walls. For Valentine's Day, a romantic three-course prix fixe will be offered. It will be available from 5-10 pm and is $80 per person. The menu, subject to change, includes Thai mussels with honey, soy sauce, sesame, garlic and lime, butternut squash soup with brioche croutons and crème fraiche, and Miso poached cod with cauliflower mushrooms, caulilini, soba noodles, and Miso sauce .For dessert, the ricotta donuts with caramel and crème anglaise and lava cake with vanilla cream hit the spot.
MTK Lobster House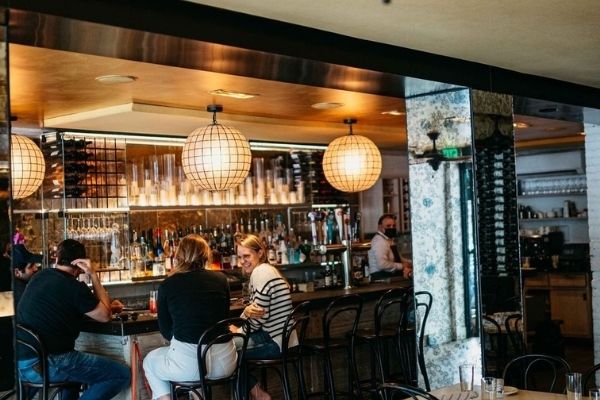 Credit: MTK Lobster House
MTK Lobster House will be reopening their Sag Harbor location on Friday, February 11, and they will be celebrating V-Day all weekend long. Their Valentine's Day prix fixe menu is available from February 11th to Monday, February 14th. The cost is $45 per person and includes appetizers like lobster bisque, three oysters rockefeller and dumplings. Entrees include chicken milanese, shrimp linguine and cod fish pan roasted. For dessert, treat yourself to a glass of wine or warm chocolate cake served with vanilla ice cream.