Spookiest Haunted Houses on Long Island (And Places to Dine Near Them)
October 19, 2022 | What To Do
While some people's idea of fall is to drink hot apple cider and pick apples and pumpkins, others are looking to get spooked. Here are our three favorite haunted houses on Long Island (and places to dine near them) for a frightful night.
Bayville Scream Park has seven attractions in one! You can choose to venture through the haunted mansion, asylum, funhouse of fear, temple of terror, evil in the woods, and other scary locations. A brand new attraction that opened this year is called "Nyctophobia," where one has to feel your way through pitch blackness, intense audio-visuals, and spine tingling passageways to survive. If you have an appetite afterwards, our favorite restaurants in Bayville include Shipwreck Tavern, Souvlaki Place of Bayville and Piccolo Cantina Bay.
Gateway Haunted Playhouse


Credit: Gateway Haunted Playhouse
Gateway Haunted Playhouse in Bellport is regularly picked as the best haunted house on Long Island year after year. As a division of The Gateway, Performing Arts Center of Suffolk County, Gateway's Haunted Playhouse utilizes the numerous theatrical designers and staff at the Gateway – Long Island's oldest professional theater. Dozens of professionally trained actors prepare and rehearse each character that inhabits the haunt, giving it a unique, theatrical quality unrivaled on the island. Great eateries in the area include Avino's Italian Table, Peter's on the Green and The Bellport.
Darkside Haunted House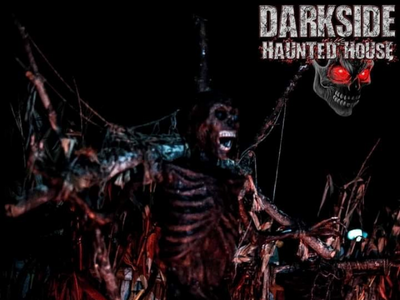 Credit: Darkside Haunted House
Darkside Haunted House's unique setting of being located in a deserted field sets it apart from other haunts and creates an atmosphere of trepidation. You know once you leave the safety of your car that you are in for an experience like no other and it's been featured in music videos, TV pilots and news stories. Our favorite restaurants in the area are La Plage, North Tavern and Truffles Bistro.